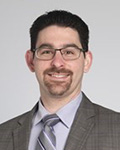 Biography
Tim is board-certified by the National Certification Commission for Acupuncture and Oriental Medicine (NCCAOM) and is licensed to practice acupuncture in the states of Ohio and New Jersey. He graduated from the New England School of Acupuncture (which is now part of the Massachusetts College of Pharmacy and Health Sciences) in 2012 with his Master in Acupuncture and Oriental Medicine degree. He completed his undergraduate studies earning three Bachelor degrees from Penn State University in 2008. He also holds certifications in Personal Training (CPT) and Corrective Exercise Specialization (CES) from the National Academy of Sports Medicine.
Prior to joining the Cleveland Clinic in 2019, Tim practiced in New Jersey for 7 years alongside of medical doctors and healthcare providers amongst many disciplines including sports medicine, neurology and neurosurgery, pain management, chiropractic care, and physical and occupational therapy.
Tim integrates classical Chinese medicine with modern diagnostics to determine the underlying root causes of his patients' ailments. He strives to provide an evidence-based, comprehensive, and integrative approach to healthcare using the most up to date research and scientific data with a deep understanding of Eastern medicine in order to improve the lives of people affected by injury and disease.
One of Tim's professional work goals is the "de-mystification" of acupuncture, which would allow for a more coordinated understanding between acupuncturists and their conventional-trained medical colleagues about the best treatment options and strategies available for patients.
In addition to his clinical work, Tim is the Acupuncture Education Champion for the department. He provides lectures and shadowing opportunities for medical students, chiropractic students, and acupuncture students.
When he is not working, Tim enjoys spending time with his wife and 2 sons. He is an avid runner and triathlete and die-hard baseball fan. Let's Go Mets!
Areas of Focus
His primary focuses are but not limited to:
Orthopedics: working extensively with patients in treating a wide array of musculoskeletal conditions ranging from sprains and strains to chronic illness like arthritis
Sports Medicine and Sports Related Injuries
Pain Management
Reduction of cancer treatment-induced side effects: nausea, vomiting, dry mouth, surgical pain, hot flashes and stress
Education/Training
Bachelors – Penn State University, State College, PA
Master of Acupuncture and Oriental Medicine – New England School of Acupuncture, Worcester, MA
Additional Training – National Academy of Sports Medicine
Certifications/Licenses
National Certification Commission for Acupuncture and Oriental Medicine (NCCAOM)
State Medical Board of Ohio
New Jersey Board of Medical Examiners
Corrective Exercise Specialist (CES)
Certified Personal Trainer (CPT)
Locations