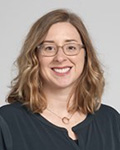 Biography
Megan is board certified by the National Certification Commission for Acupuncture and Oriental Medicine. She is licensed to practice acupuncture and Chinese herbal medicine by the State Medical Boards of Ohio and Minnesota. Megan graduated from Northwestern Health Sciences University in Bloomington, Minnesota with a Master of Oriental Medicine degree. She earned her Bachelor of Science degree in Zoology from the University of Wisconsin-Madison.
Megan brings 11 years of acupuncture and herbalism experience by way of practice within diverse medical environments. Prior to joining the Cleveland Clinic in 2019, Megan worked in a rural healthcare system in Northwest Minnesota where she provided acupuncture in the outpatient and inpatient hospital settings.
Megan has broad clinical experience but specializes in acute and chronic pain management. Her unique combination of outpatient and inpatient experience brings the benefits of acupuncture to both health care center and hospital-based patients. Megan enjoys educating her patients and the community about acupuncture and Traditional Chinese Medicine (TCM). She teaches Tai Chi and provides talks on incorporating TCM into daily life for optimal health and well-being.
Outside of her practice, Megan enjoys water sports, theater, exploring Cleveland and world travel.
Areas of Focus
Her primary focuses are but not limited to:
Digestive disorders: colitis, reflux, diarrhea, constipation
Respiratory and Pulmonary: allergies and sinusitis
Women's health: menstrual irregularities and different phases of menopause
Mind and mood issues: insomnia, anxiety, depression
General wellness and prevention
Education/Training
Bachelors – Zoology, University of Wisconsin, Madison, WI
Master of Oriental Medicine – Northwestern Health Sciences University, Bloomington, MN
Certifications/Licenses
National Certification Commission for Acupuncture and Oriental Medicine (NCCAOM)
State Medical Board of Ohio
Locations