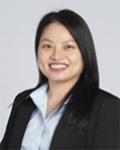 Biography
Thuy (also referred to as Kim) earned her Bachelor of Science degree in Biological Engineering from Mississippi State University and holds professional degrees as a Doctorate and Master of Science in Acupuncture and Oriental Medicine. Kim is a Diplomate of Oriental Medicine, certified by the National Certification Commission for Acupuncture and Oriental Medicine (NCCAOM). She is a licensed acupuncturist and Chinese herbalist in the states of Ohio, Mississippi, Texas, and Virginia. She obtained her Postdoctoral Fellowship at the American College of Acupuncture and Oriental Medicine (ACAOM) in Houston, Texas and held the academic positions of teaching assistant and clinical faculty member at this institution.
Kim has had a focus on acupuncture for cancer-related patient care. She has worked as an acupuncturist in the private sector for over a decade. She has volunteered at the Veterans Team Recovery Integrative Immersion Process (Vet TRIIP Houston Chapter) and local Buddhist meditation centers, where she provided acupuncture treatments to veterans and general members of the community.
Prior to joining the Cleveland Clinic, Kim pursued advanced training in oncology acupuncture and launched Ohio's first cancer-focused income-based acupuncture therapy services at University Hospital's Seidman Cancer Center in Cleveland, Ohio. As the primary oncology acupuncturist at the Seidman Cancer Center, Kim was instrumental in developing and launching University Hospital's first infusion and hospital-based inpatient acupuncture oncology program treating patients suffering from debilitating chemotherapy and radiation-induced symptoms. Furthermore, this is also where she participated as a lead investigator for clinical research studies on acupuncture.
In addition, Kim is a Clinical Assistant Professor of Medicine for Cleveland Clinic Lerner College of Medicine of Case Western Reserve University. She works closely with the administrative team and education champion to gather lectures and provide shadowing opportunities to medical and acupuncture students.
Kim is passionate about educating patients, students, and colleagues on acupuncture and Chinese medicine. In her time away from work, she enjoys spending time with her family, reading, and visiting parks and observatories.
Areas of Focus
Kim's primary focuses are but not limited to:
Reduction of cancer treatment-induced side effects: nausea, vomiting, dry mouth, surgical pain, hot flashes, stress and general well-being
Internal medicine issues: Flu/cold symptoms, improved immune system, allergies, insomnia
Pain management
Digestive concerns: IBS, colitis, bloating, diarrhea, constipation
Women's health: fertility, irregular menstruation and pre/post-menopausal symptoms
Mind and mood issues: stress, anxiety, depression
Education/Training
Bachelor of Science – Biological Engineering, Mississippi State, Mississippi
Master of Science in Acupuncture and Oriental Medicine - American College of Acupuncture & Oriental Medicine, Houston, TX
Doctorate in Acupuncture and Oriental Medicine - American College of Acupuncture & Oriental Medicine, Houston, TX
Doctoral Fellowship – American College of Acupuncture and Oriental Medicine, Houston, TX
Certifications/Licenses
National Certification Commission for Acupuncture and Oriental Medicine (NCCAOM)
State Medical Board of Ohio
Texas State Board of Acupuncture Examiners
Virginia Board of Medicine for Acupuncture Licensure
Mississippi State Board of Acupuncture Licensure
Locations