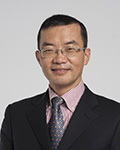 Biography
Song is a Diplomate of Oriental Medicine, certified by the National Certification Commission for Acupuncture and Oriental Medicine (NCCAOM). Song is licensed by the State Medical Boards of Ohio and Texas as an Acupuncturist and Chinese Herbalist.
Song achieved his MD and PhD degrees after 11 years of study at Chengdu University of Traditional Chinese Medicine in China. After graduation, he worked as a physician in the outpatient and inpatient departments of Sichuan Academy of Medical Science & Sichuan State People's Hospital for 12 years, serving patients in 22 units including emergency room, ICU, neurology, rehabilitation, internal medicine, and psychiatry. Song has served various stroke patients including acute stroke in the ICU. He was bestowed as one of the "Top Ten Doctors" among the 2,000 physicians in the hospital. He has accumulated rich experience in serving patients in a hospital setting.
Prior to joining the Cleveland Clinic in 2021, Song practiced in Texas for 16 years, where he served patients in AOMA Graduate School of Integrative Medicine and multiple medical centers, including Austin VA Outpatient Clinic, ICU at Seton Medical Center Austin, Seton Williamson Medical Center, St. David's Medical Center, Texas Neuro Rehab Center, Seton McCarthy and Seton Topfer Community Health Centers. He was invited to serve patients in the ICU of Seton Medical Center and treated acute stroke patients in the inpatient department of St. David's Medical Center. In addition, Song was invited to give 20 academic presentations at multiple medical centers and Texas Association of Acupuncture and Oriental Medicine. In 2020, Song received an MPH from Johns Hopkins Bloomberg School of Public Health and has published multiple peer-reviewed articles on acupuncture and stroke.
With 28 years of clinical experience, Song integrates traditional Chinese medicine with western medicine to provide evidence-based services. He offers acupuncture and Chinese herbal therapies at the Center for Integrative and Lifestyle Medicine at the Cleveland Clinic.
In his spare time, Song likes to jog in the park and invite neighbors and friends to dumpling parties. The most memorable thing for him is the dumpling party he held at Travis Lake.
Areas of Focus
His primary focuses are but not limited to:
Neurological disorders: stroke, muscle weakness (peripheral facial paralysis /Bell's palsy, Guillain-Barre Syndrome, myasthenia gravis, amyotrophic lateral sclerosis), peripheral neuropathy, essential tremor, dementia
Pain disorders: headache, facial pain (trigeminal neuralgia), neck pain, wrist pain (carpal tunnel syndrome), lower back pain, leg pain (sciatica), arthritis, ankle injury
Mind and mood issues: anxiety, stress, insomnia, depression
Allergies: seasonal allergies
Respiratory disorders: cough, bronchitis, asthma
Dermatological disorders: dermatitis
Digestive disorders: stomachache (gastritis), constipation, diarrhea
Women's health: menstrual disorders, menopause, infertility
Side effects from chemotherapy and radiation: postoperative pain, fatigue, nausea, vomiting
Pediatric disorders: autism
Education/Training
Master of Public Health – Johns Hopkins Bloomberg School of Public Health, Baltimore, MD
PhD – Chengdu University of Traditional Chinese Medicine, Chengdu, China
Medical School – Chengdu University of Traditional Chinese Medicine, Chengdu, China
Certifications/Licenses
National Certification Commission for Acupuncture and Oriental Medicine (NCCAOM)
State Medical Board of Ohio
Texas State Board of Acupuncture Examiners
Locations