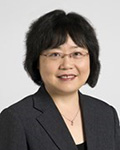 Biography
Shuishan Lui (maiden name Susan Deng) joined the Cleveland Clinic's Center for Integrative and Lifestyle Medicine with more than 20 years of acupuncture experience. She manages patients with a full range of medical conditions.
Susan is a graduate of the Sun Yat-sen University of Medical Sciences in Guangzhou, China. She earned her MD degree and completed a specialized postdoctoral clinical training module in Neurology from this institution. She practiced general medicine for 8 years with sub-specialization in neurology at the Guangdong Rehabilitation Hospital in Canton, China. She further pursued higher academic studies and certified clinical training in acupuncture and herbology from the Guangzhou University of Chinese Medicine in Canton, China.
After Susan's arrival in the United States, she achieved status as a Diplomate of Acupuncture from the National Certification Commission for Acupuncture & Oriental Medicine (NCCAOM), which led to her being awarded her license to practice acupuncture from the State Medical Board of Ohio. She holds eligibility status for certification for prescribing Chinese herbs from the State Medical Board of Ohio.
Susan is also a lifetime member of the Ohio Association of Acupuncture & Oriental Medicine (OAAOM), a state-based organization representing licensed acupuncturists in Ohio.
Areas of Focus
Shui Lui's primary focuses are but not limited to:
Musculoskeletal disorders: fibromyalgia, osteoarthritis, chronic low back pain, and sciatica
Nervous system disorders: Parkinson's disease, MS, migraine headaches
Endocrine system associated problems: diabetic neuropathies, weight loss, chronic fatigue syndrome
Mind and mood issues: anxiety, depression, insomnia
Cardiovascular health: heart disease, quitting smoking
Education/Training
Bachelors - Sun Yat-Sen University of Medical Sciences, China Guangzhou
Medical School - Sun Yat-Sen University of Medical Sciences, China Guangzhou
Additional – Guangzhou University, Guangzhou, China
Certifications/Licenses
National Certification Commission for Acupuncture and Oriental Medicine (NCCAOM)
State Medical Board of Ohio
Locations