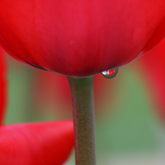 Click for larger image
Lynn Smith, Reflections of Spring, Photograph
Lynn Smith is a self-taught photographer who has been photographing for 34 years. Her son was treated at Cleveland Clinic by Dr. Kiran in the Digestive Disease and Surgery Institute and she wishes to express her gratitude for the care her son and family received while at Cleveland Clinic. Smith says that this image represents for her the renewal that her son experienced after his treatment.
---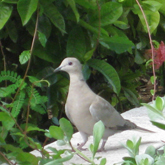 Click for larger image
John M. Maslowski, Serenity, Photograph
"Serenity is something that developed in me following my treatment at Cleveland Clinic. The bird caught my attention because it had the air of being serene. I was able to get very close to it and it did not seem to mind. When I moved to Cleveland in 2005, I remember thinking if I have a heart attack I will be in the right city because of the Clinic. Little did I know the clinic would save my life for a different reason."
John M. Maslowski
---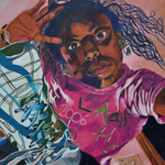 Click for larger image
Gabrielle Lyons, A Touch of Insanity, Colored pencil on paper
The art of Gabrielle Lyons focuses on themes of healing, discovery, and identity, as she ruminates on the traumatic experience of undergoing emergency brain surgery after a head-first fall from a broken swing set. She suffered through bouts of depression, seizures, memory loss, migraines and Post Traumatic Stress Disorder as a result of the incident, yet she continued to make art and music to aid in her recovery. She says of this colored pencil work from 2008, "When I had spent long stays at [Cleveland Clinic] hospital I worked on this piece as a coping mechanism to relieve stress." Despite her physical limitations, Lyons managed a very successful high school career as both an artist and scholar and went on to attend the School of Visual Arts in New York.