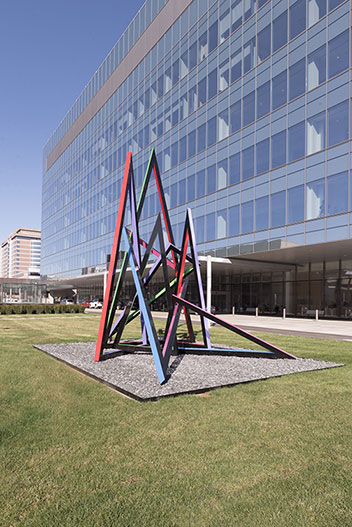 Cleveland Clinic's Art Program crafts engaging, meaningful interactions with contemporary art within a healthcare setting. Integral to the healing environment, the artwork activates and anchors spaces throughout Cleveland Clinic Enterprise. The art collection is designed to present a broad range of perspectives, promoting empathy and inclusion by making visible the diversity of patients, visitors and caregivers.
Projects and Programs
Commissioned, site-specific artwork at Miller Family Pavilion, Glickman Tower, Taussig Cancer Center, Hillcrest Hospital, Marymount Hospital, and other areas
Julia and Larry Pollock Gallery on Main Campus between Q and G Buildings which features several shows each year as well as occasional public programs
Cleveland Clinic ar+ app featuring the world-class art and architecture at Cleveland Clinic facilities across the globe and a Virtual Viewing Room of digitally curated exhibitions
Audio Art Tour showcasing 35 works from the collection with commentary from artists and guest curators
"Art Break" Cell Phone Tour available for visitors at regional facilities to enjoy specific works of art in key locations
Art Ambassador Tours that give patients, visitors and staff a personal guide to the artwork
Art in the Afternoon Tours that are specially-designed for individuals with memory loss and their care partners
Video Loop of over 120 artworks paired with music available on the Arts & Medicine channel 44 and on-demand through patient television
Art Program Team
Curator and Senior Director: Ellen Rudolph
Preparator: Jane Baeslach
Curator: Sienna Brown
Associate Curator: Brian Downey
Art Collections Manager: Kathryn Koran
Department Coordinator: Michelle Kupiec
Preparator: Sean Merchant
Contact Us
For more information about the Art Program, email ccartprogram@ccf.org or call 216.442.3585.