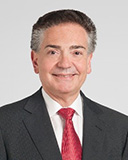 Christopher A. Troianos is the Chair of the Anesthesiology Institute at Cleveland Clinic. In this role, he is responsible for overseeing the provision of anesthesia services, critical care services for the surgical and cardiovascular intensive care units, as well as acute and chronic pain management. He also oversees the education of over 100 anesthesiology residents and 40 fellows within the Institute.
Previously, Dr. Troianos was the Chair of Anesthesiology at Mercy Hospital (now UPMC-Mercy) in Pittsburgh and West Penn Hospital of the Allegheny Health Network, also in Pittsburgh.
Dr. Troianos graduated from the University of Pittsburgh School of Medicine. He completed his residency in anesthesiology at Mercy Hospital in Pittsburgh and a cardiothoracic anesthesiology fellowship at the University of Pennsylvania's Perelman School of Medicine. He is a fellow of the American Society of Echocardiography.
Dr. Troianos has participated on several national task forces to develop practice and training guidelines and was the lead author for practice guidelines for ultrasound guided vascular access. He has been published in numerous peer-reviewed publications and has authored three anesthesiology textbooks. Dr. Troianos has served on the boards of numerous professional organizations and is currently the Chair for the American Society of Anesthesiologists Section on Professional Practices.