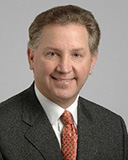 Francis A. Papay is the Chair of Cleveland Clinic's Dermatology and Plastic Surgery Institute and its Plastic and Reconstructive Surgery Department. In these roles, he oversees the strategy and operations of over 40 dermatologists and 20 plastic surgeons. Throughout his career, he has made important contributions through medical/surgical inventions and procedural innovations in surgery. He is a Professor of Surgery and is on the research staff in the Biomedical Engineering Department at Cleveland Clinic's Lerner College of Medicine.
Previously, Dr. Papay served as President of the Ohio Valley Society of Plastic Surgeons. He was also Chair of the American Society of Plastic Surgery's Ethics Committee and President of the Plastic Surgery Section of the American Academy of Pediatrics.
Dr. Papay graduated from Northeast Ohio Medical University and received his Master of Science in Biomedical Engineering from Case Western Reserve University in Cleveland. He completed a subspecialty fellowship in skull base, craniomaxillofacial surgery, pediatric plastic surgery and aesthetic facial plastic surgery at Primary Children's Hospital in Salt Lake City. He completed a fellowship and received a Doctor of Management in Entrepreneurship/Entrepreneurial Studies at the Weatherhead School of Management at Case Western Reserve University. He also completed the Wharton Executive Education Program in Practice Management at the University of Pennsylvania.
Dr. Papay is the recipient of numerous awards and lectureships. He holds dozens of U.S. patents. Dr. Papay is the founder of several Cleveland Clinic biotech startup companies, as well as the co-founder of Brain-X, a nonprofit society of machine learning in healthcare and Cleveland Cares Medical Surgical Missions.