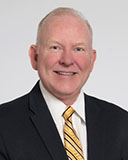 Daniel Napierkowski is President of Cleveland Clinic Marymount Hospital. In this role, he continues to build on Marymount's excellent reputation, provide safe and quality care for patients and look for expansion opportunities. Dr. Napierkowski also serves as President of the Marymount Healthcare System.
Previously, Dr. Napierkowski was President of Cleveland Clinic Euclid Hospital and served as Chair of Regional Practice Anesthesiology.
Dr. Napierkowski graduated from the University of Pittsburgh School of Medicine (UPMC). He completed his anesthesiology residency at UPMC Mercy Hospital in Pittsburgh, PA and an internship in medicine at Western Pennsylvania Hospital.
Dr. Napierkowski has served on the Ambulatory Surgery Center Executive Committee, the Surgical Operations Program Strategy and Allocation Committee, the Pharmacy and Therapeutics Committee and the Capital Equipment Committee for Anesthesia Institute. He currently is a member of the Marymount Hospital Board of Trustees, Inc., the Marymount Healthcare Systems Board of Trustees and The Village at Marymount Board of Directors. Dr. Napierkowski is also a member of numerous professional societies, including the American Society of Anesthesiologists, the Ohio Society of Anesthesiology and the Ohio Medical Association.