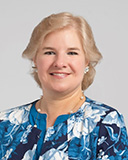 Karen F. Murray is the Chair of the Pediatric Institute at Cleveland Clinic. There she oversees the Clinic's pediatric collective of medical specialists. She is also the Physician-in-Chief at Cleveland Clinic Children's, the collective of all pediatric providers at Cleveland Clinic, President of Cleveland Clinic Children's Hospital for Rehabilitation, and a Professor and Chair of Pediatrics for Cleveland Clinic Lerner College of Medicine and all of the pediatric medical training programs.
Previously, Dr. Murray was the Chief of Pediatric Gastroenterology and most recently also the Interim-Chair of Pediatrics at the University of Washington School of Medicine and Seattle Children's Hospital in Seattle.
Dr. Murray graduated from Johns Hopkins School of Medicine in Baltimore. She completed a residency in pediatrics at the University of Washington School of Medicine at Seattle Children's Hospital, and a fellowship in pediatric gastroenterology at Boston Children's and Massachusetts General Hospitals. She is board certified in general pediatrics, pediatric gastroenterology and pediatric transplant hepatology.
In addition to clinical care in pediatric gastroenterology and hepatology, Dr. Murray is the Past-President of the North American Society of Pediatric Gastroenterology, Hepatology and Nutrition, has served on the American Board of Pediatrics and has an active clinical research program in pediatric hepatology. She has authored more than 150 original manuscripts and 40 book chapters. She also has edited two books.