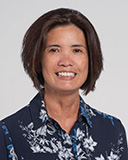 Michelle Medina is the Interim Chief of Cleveland Clinic's Population Health and Director of Cleveland Clinic Community Care. In her role as Interim Chief of Population Health, Dr. Medina leads efforts to advance health outcomes for people, populations, communities and caregivers through a research-informed, values-driven partnership-based and holistic team approach. As Director of Cleveland Clinic Community Care, she leads a team of more than 2,400 caregivers.
Previously, Dr. Medina was the Associate Chief of Clinical Operations within Cleveland Clinic Community Health, a Department Chair of Primary Care Pediatrics and a Primary Care Pediatrician at Cleveland Clinic's Independence Family Health Center.
Dr. Medina graduated from the University of the Philippines College of Medicine, and completed her pediatrics residency at Cleveland Clinic.
Dr. Medina actively speaks on various pediatric topics, including the importance of childhood immunizations, pediatric asthma and quality measurement in pediatrics. In 2014, she spoke on vaccines and society at the inaugural TEDx event at Cleveland State University. Dr. Medina also participates in medical student, residency and allied health teaching.