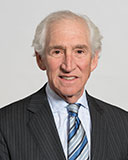 Larry Pollock is Managing Partner of Lucky Stars Partners, LLC, a private investment firm focusing on early stage businesses, troubled businesses and real estate. He also serves on the Board of Directors of Cardinal Commerce Corporation and Safeguard Properties, LLC. From 2000 to 2003, Mr. Pollock served as the President, Chief Operating Officer and a Director of Cole National Corporation, owner of Pearle Vision stores, Cole Vision stores, and Things Remembered personalized gift stores, and from 2003 to 2004 was the President, Chief Executive Officer and a Director of Cole National Corporation.
He is currently a Trustee of the Musical Arts Association (Cleveland Orchestra), ideastream (WVIZ / PBS and 90.3 WCPN), Kent State University, University School, Bellefaire JCB, Maltz Museum of Jewish Heritage, The Mt. Sinai Health Care Foundation and Wingspan Care Group.
Mr. Pollock received a Bachelor of Science Degree in Business Administration from The Ohio State University.
Cleveland Clinic – Director, Vice Chair, Philanthropy and Stewardship, Board of Directors
First Elected to Cleveland Clinic Board in 2008
Board Committees: Governance; Philanthropy (Chair)