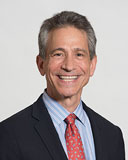 Stewart Kohl is Co-CEO of Riverside Company. Prior to joining Riverside, he was Vice President of Citicorp Venture Capital and COO of the National Cooperative Business Association.
After spending 15 years as a "Heavy Hitter" participant in the Pan-Mass Challenge bicycle fundraiser, Mr. Kohl became a founding donor of VeloSano. He also serves on the VeloSano Steering Committee. He is also the Event Chair of VeloSano. In addition, he serves on the Wellness Institute Leadership Council and is Co-Chair of Cleveland Clinic's Power of Every One Centennial Campaign Cabinet.
Mr. Kohl serves on the boards of directors for Oberlin College and the Museum of Contemporary Art Cleveland (Co-Chairman). He was inducted into the Ohio Foundation of Independent Colleges Hall of Excellence in 2009. He previously served as Co-Chair of the Building for Hope Capital Campaign of the Center for Families and Children.
Mr. Kohl received a BA in government and economics from Oberlin College.
Cleveland Clinic - Director
First Elected to Cleveland Clinic Board in 2017
Board Committees: Philanthropy (Vice Chair)