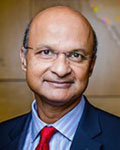 Omar Ishrak is Executive Chairman and Chairman of the Board of Directors of Medtronic. He assumed the newly created role of Executive Chairman in April 2020, following his retirement as Chief Executive Officer, a position he held since June 2011. Medtronic is the world's leading medical technology company, with $29 billion in annual revenue, 90,000 employees and operations reaching more than 150 countries worldwide. Prior to joining Medtronic, Dr. Ishrak was President and CEO of GE Healthcare Systems. He held several other roles at GE during his 16-year tenure, including serving as an Officer and a Senior Vice President. Earlier in his career, Dr. Ishrak amassed 13 years of technology development and business management experience, holding leadership positions at Diasonics/Vingmed, and various product development and engineering positions at Philips Ultrasound.
Dr. Ishrak is Chairman of the Board of Directors of Intel and has served on the board since March 2017. He is a member of the Board of Trustees of the Asia Society, the leading educational organization dedicated to promoting mutual understanding and strengthening partnerships among peoples, leaders and institutions of Asia and the United States in a global context. He is also a member of the Minnesota Public Radio Board of Trustees.
Dr. Ishrak grew up in Bangladesh. He holds a Bachelor of Science degree and Ph.D. in electrical engineering from the University of London, King's College. He is also a Fellow of King's College. He was inducted to the American Institute for Medical and Biological Engineering (AIMBE) College of Fellows in 2016 and was elected to the National Academy of Engineering in 2020.
Cleveland Clinic – Director
First Elected to Cleveland Clinic Board in 2020