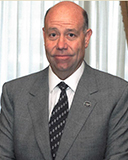 Umberto Fedeli is President and CEO of The Fedeli Group, a risk management, insurance and employee benefit consulting and brokerage firm.
He is an honorary member of the Cleveland Catholic Diocese and is currently Chairman of the Northern Ohio Italian American Foundation, a charitable organization that he helped establish in 1995, and is also a member of their Hall of Fame. He is the founder of the Cleveland Chapter of Legatus, and was formerly on the International Board of Directors. He is currently a member of the World Presidents' Organization and The 50 Club. He was formerly on the Board of Trustees of John Carroll University.
Umberto is very active in a number of civic, charitable and political arenas as well as an active investor in a number of private and public companies. He became a Knight of the Holy Sepulchre of Jerusalem, administered by the Holy See in Rome and is also the holder of the Ellis Island Medal of Honor.
Mr. Fedeli is a graduate of John Carroll University.
Cleveland Clinic – Director
First Elected to Cleveland Clinic Board in 2000