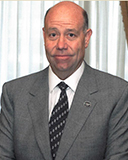 Umberto Fedeli is President and CEO of The Fedeli Group, a risk management, insurance and employee benefit consulting and brokerage firm.
He is an honorary member of the Cleveland Catholic Diocese, and is currently Chairman of the Northern Ohio Italian American Foundation, a charitable organization that he helped establish in 1995. He is also a member of Legatus and founder of the Cleveland Chapter and was formerly on the International Board of Directors. He is currently an active member of the World Presidents' Organization and The 50 Club. He was on the Board of Directors of Park View Federal Savings Bank which was recently sold and formerly on the Board of Trustees of John Carroll University.
Umberto is very active in a number of civic, charitable and political arenas as well as an active investor in a number of private and public companies.
Mr. Fedeli is a graduate of John Carroll University.
Cleveland Clinic – Director
First Elected to Cleveland Clinic Board in 2000
Board Committees: Government and Community Relations (Chair)
Business Relationships with Cleveland Clinic: Mr. Fedeli is a shareholder of CareWorks, a managed care organization. Cleveland Clinic, through a third party administrator, uses the services of one of CareWorks subsidiaries, VocWorks, for nurse case management claims. Mr. Fedeli was not involved with the selection of VocWorks as a service provider to Cleveland Clinic and was not involved in the negotiation process.