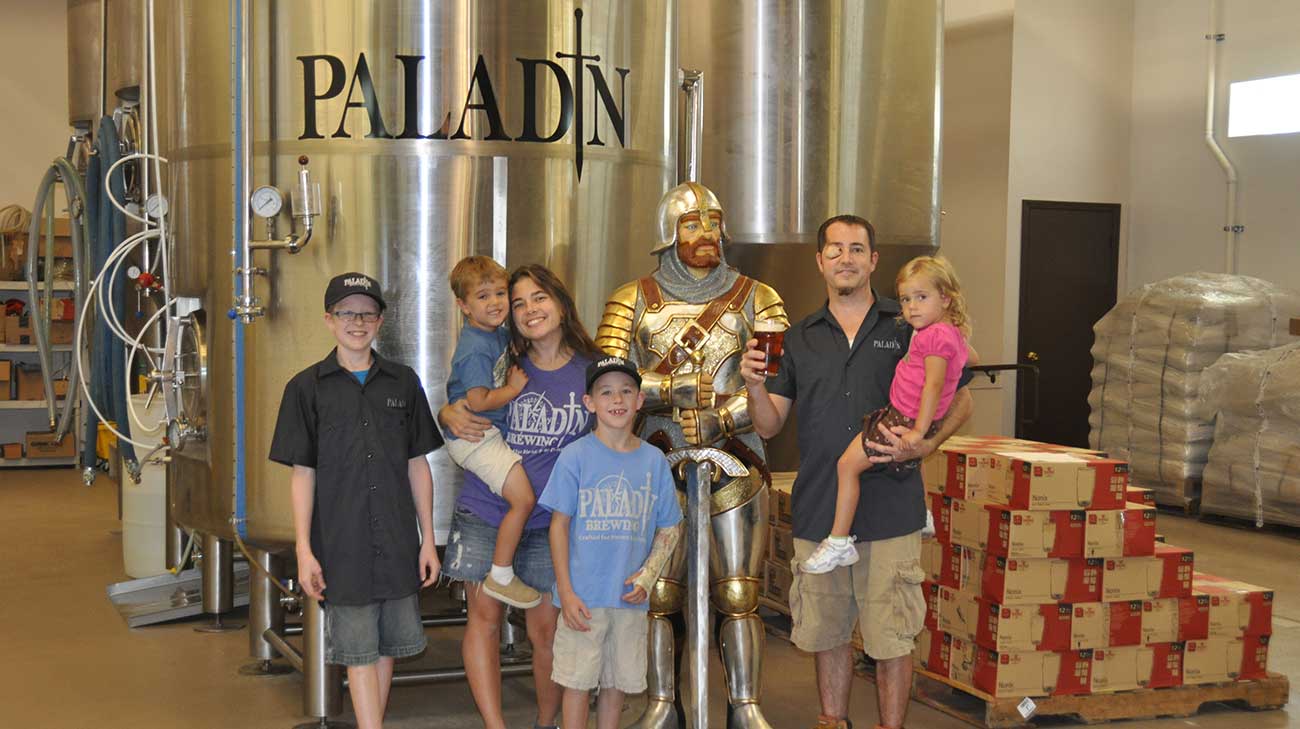 In the spring of 2015, while testing a zipline he built for his children, John Chandler fell 10 feet and landed on his back. "I couldn't breathe," he says. "It knocked the wind right out of me. But I thought I was fine, and I was very busy opening my business, which I'd been working on for over a year."
His financial resources and time went toward establishing Paladin Brewing, the first microbrewery in Austintown, Ohio, and he knew that his family was relying on its success. "I had been stressed when the equipment didn't come in January, as I originally was planning to open on St. Patrick's Day that year. As it turned out, it didn't arrive until months later, a week prior to Memorial Day. I was doing everything I could that spring, practically living at the brewery. And I have four children. It was stress, stress, stress. I had a constant headache, but it didn't matter because I had to keep going."
When John saw his family doctor about the headaches, he ordered X-rays and MRIs and referred him to a back specialist. Although a chipped vertebra was found, the specialist didn't think it was causing the headaches, but offered no diagnosis. Then, a Little League game, another father asked him, "What happened to your eye? Did you get in a fight or something?" He was surprised by the comment until, back at home, he checked a mirror and saw that his eye was swollen. "It had happened so gradually that my family and I didn't notice," he says. "I could see my right eyebrow was protruding, and I had been rubbing my eye on that side because it hurt."
He returned to his family doctor, who ordered an MRI that revealed a massive tumor in his sinus cavity. When an ENT concluded that John's situation was serious, his family physician arranged an appointment with Troy Woodard, MD, rhinologist and skull base surgeon in Cleveland Clinic's Head & Neck Institute. "Dr. Woodard said that I probably had cancer, and he scheduled a biopsy within five days. The results showed high-grade adenocarcinoma. I was only 39 years old. At the time, my wife and I had 3-year-old twins, plus two older children. I thought, 'I have all these responsibilities and so many experiences to look forward to. I cannot die!' I told the doctor, 'It's up to you. How are you going to fix this?'"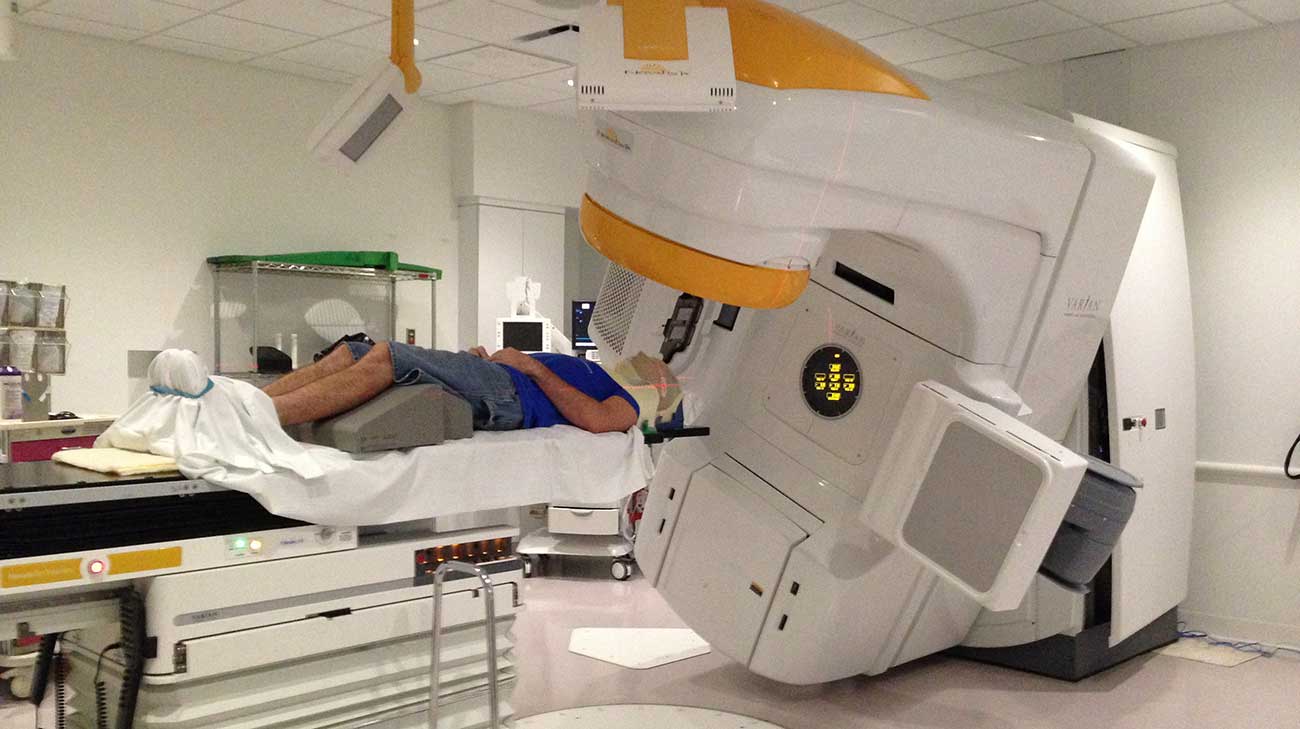 John going into the radiation machine at Cleveland Clinic.
When surgery was scheduled for July 23, John was told that his doctors would remove as much of the cancer as possible. Then, he would receive weeks of radiation and chemotherapy. He also learned that they might have to remove his right eye. "I said, 'Well, do what you've gotta do. I need the best chance of survival.'"
The 15-hour procedure was performed by Eric Lamarre, MD, MBA, Section Head for Head and Neck Cancer in the Head & Neck Institute; Pablo Recinos, MD, of the Brain Tumor and Neuro-Oncology Center; and Dr. Woodard, along with multiple surgical team members. "We had to take out his eye and remove the cancer through his nose into the sinus," Dr. Lamarre says. "We also reconstructed his eye socket with tissue from his thigh. Eye removal and reconstruction is a very big operation with high risks because we're exposing brain fluid close to the nose. The tumor also was extending toward some of the lining of the brain."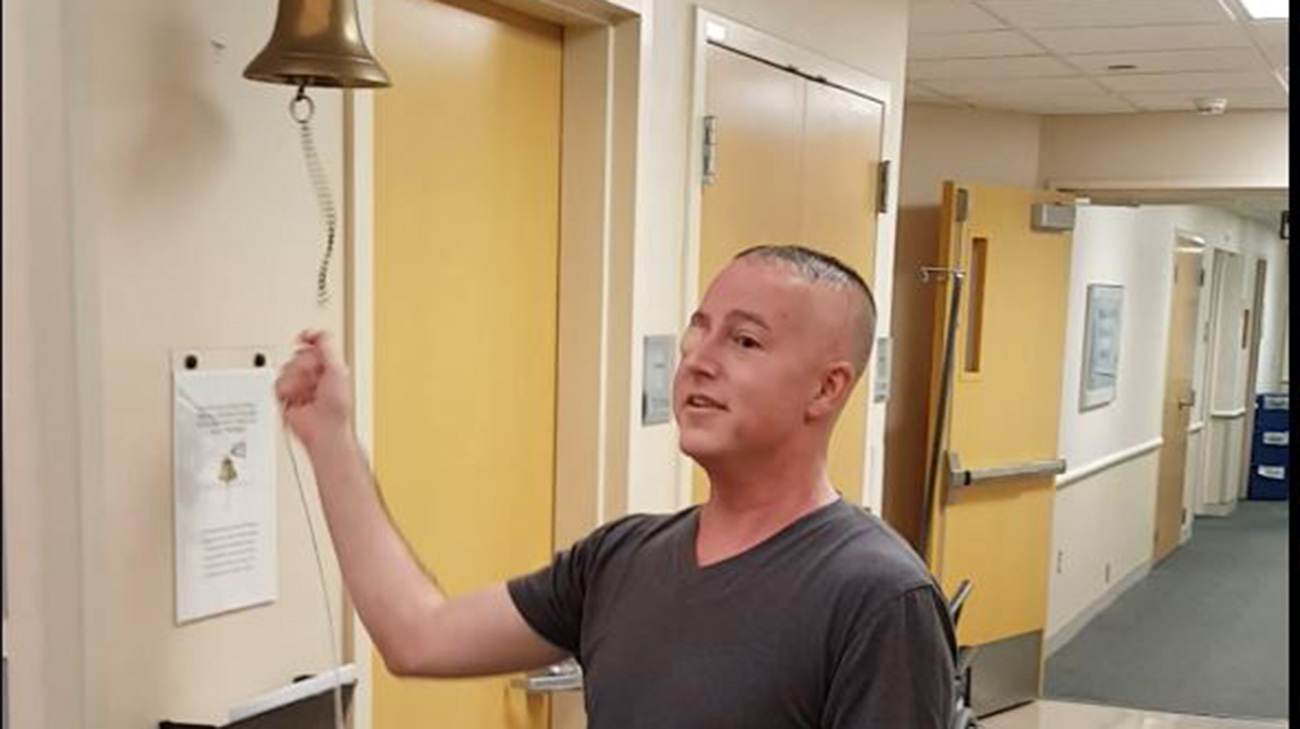 John ringing the bell after his final radiation treatment at Cleveland Clinic.
After surgery, John pushed himself hard to meet the requirements for release from the hospital. He was discharged after seven days, three days earlier than expected.
Sinonasal cancer is rare, Dr. Lamarre says. "We average 10 to 20 cases a year, and it's usually seen in patients older than John." It can go undiagnosed, as in John's case, because "symptoms may be benign, and cancer can mask itself as sinusitis or another common ailment." He attributes John's successful treatment to "Cleveland Clinic's unparalleled collaboration."
"We do these procedures fairly seamlessly," Dr. Lamarre says. "We have proven experience working together to mobilize resources fairly quickly. We have established a great team that spans the whole range of care. Our excellent team of surgeons, surgical technologists and nurses has experience managing these cases. We also collaborate with caregivers from a variety of disciplines, including medical and radiation oncologists. This collaborative spirit is deeply ingrained in Cleveland Clinic and allows us to tackle highly complex cancers."
Like his physicians, John relied on a large team — in his case, extended family members and friends. With their help, John was able to open the microbrewery on Aug. 22, just 30 days after his surgery, to a crowd of over 1,000 people, including news media. He was present from noon to 10 p.m., assisted by friends and family. A week later, he began chemotherapy and radiation.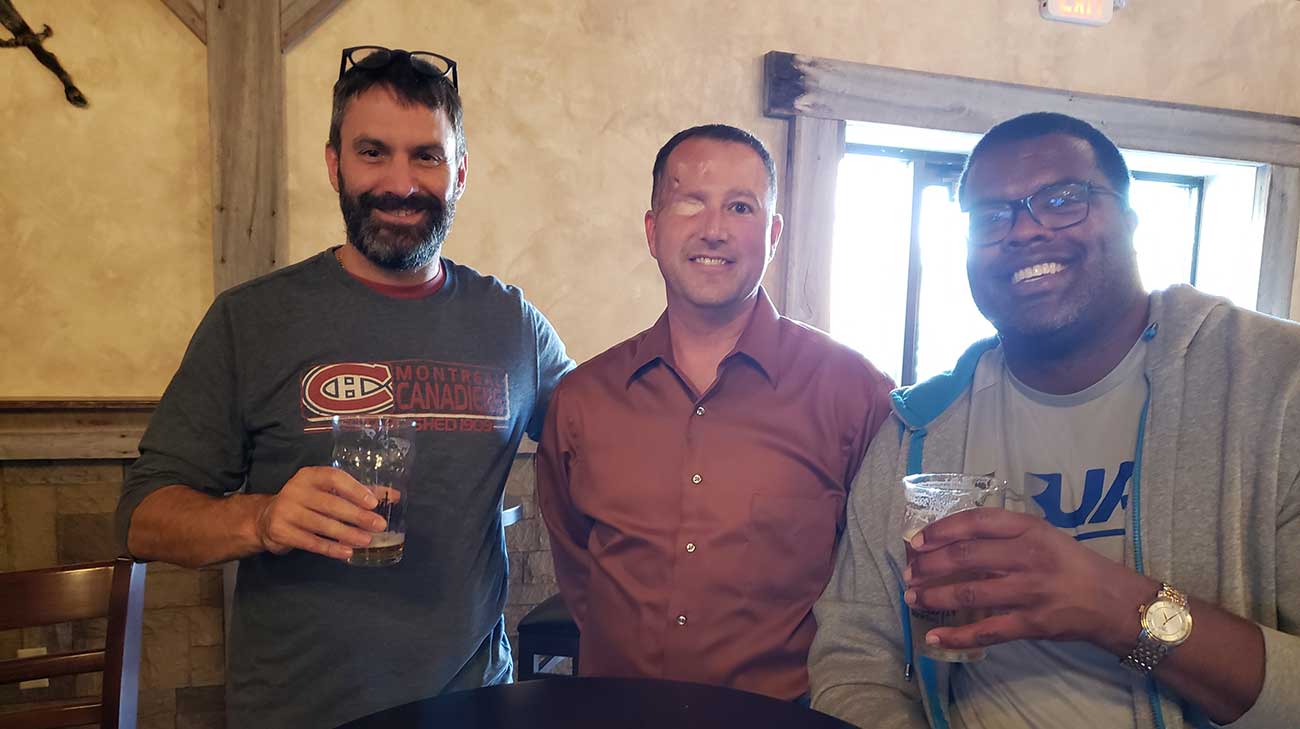 Dr. Lamarre (left) and Dr. Woodard (right) visit with John (center) at Paladin.
Today, eight years out, John's prognosis is excellent, says Dr. Lamarre, who, with his children and Dr. Woodard, has visited John at the microbrewery. John is grateful to have met the goals that were so important to him at the time of his surgery — running his business and, with his wife, Abby, watching their children John, 19, Luke, 17, and twins Clark and Chloe, 12, grow up.
John says he frequently offers one valuable piece of advice: "Anytime somebody tells me, 'I have a problem that's not going away,' I tell them, 'You need to go to Cleveland Clinic and have it checked out.'"
Related Institutes: Head & Neck Institute, Cleveland Clinic Cancer Center
Patient Stories
Patient Stories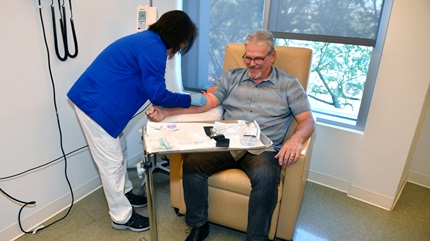 Dec 7, 2023
"The most frustrating thing in the world is not being able to remember something when it was just told to me two minutes ago. Now, with this drug, there's a chance I won't get worse for a while."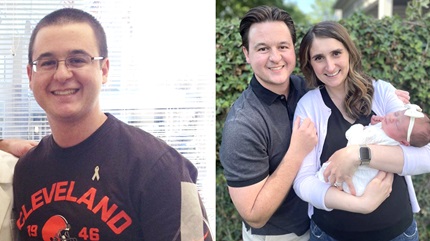 Nov 30, 2023
"At the time of my diagnosis, I was thinking, 'I'm 24. I'm a lifelong nonsmoker. I'm not supposed to get cancer.'"