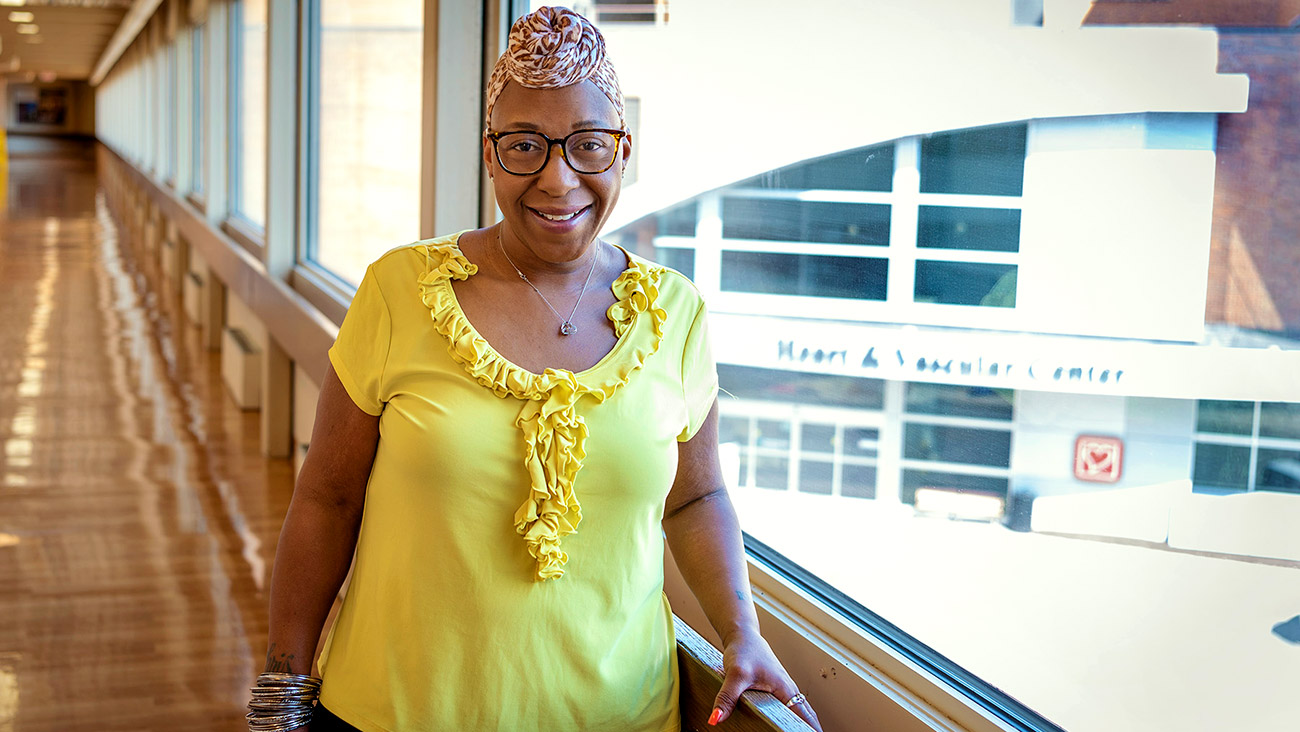 "There's a misconception that bariatric surgery is only for those who are very overweight," says Christopher Daigle, MD, bariatric surgeon at Cleveland Clinic Akron General's Bariatric Center. "Since it was introduced in the 1970s, we have learned that weight loss is just one piece of the puzzle. These surgical weight loss procedures have an enormous capacity to address many other health issues."
At age 38, Lottie Key was dealing with health issues including rheumatoid arthritis, chronic bronchitis, and high blood pressure. When her doctor prescribed steroids to help ease the pain in her joints, she experienced swelling and weight gain, making exercise difficult and Lottie miserable.
"When he referred me to the bariatric surgery department. I was like, whoa, wait a minute! I'm short, but not immobile, I can get up and do for myself. And I'm not that heavy," says Lottie.
Weighing 233 pounds with a Body Mass Index (BMI) around 45, Lottie met with Dr. Daigle, who told her the surgery could change her life. Initially, Lottie was not convinced, but after much thought and prayer, she called Dr. Daigle to ask more questions about what she'd need to do.
"It's your journey. Think about the rest of your life. I was at a point I could not enjoy my family. You have to block out the negative comments, and really, really believe in yourself."
"The first thing he told me was to quit smoking. That took a while and was the hardest part," says Lottie. "I had to see a therapist for six months as required by my insurance. I had to lose weight. All in order to even be considered for surgery."
The patient-centered team at Akron General's Bariatric Center includes surgeons and nurse practitioners, as well as specialists in sleep disorders, gastroenterology and nutrition, cardiology, internal medicine, psychology and more.
"Everyone on the team is an important piece in achieving the best possible outcomes for patients," says Amy Laktash, CNP, a nurse practitioner and clinical coordinator of the bariatric program at Akron General. "The team is involved with the patient before, during and after surgery, following them closely for the first year and annually thereafter."
All potential bariatric surgery patients undergo a thorough medical and psychological evaluation, as well as extensive nutrition counseling to ensure any health concerns are addressed before and after surgery.
With the support of her family, Lottie accomplished all that was asked of her. It was time for her and Dr. Daigle to discuss her best option for surgery.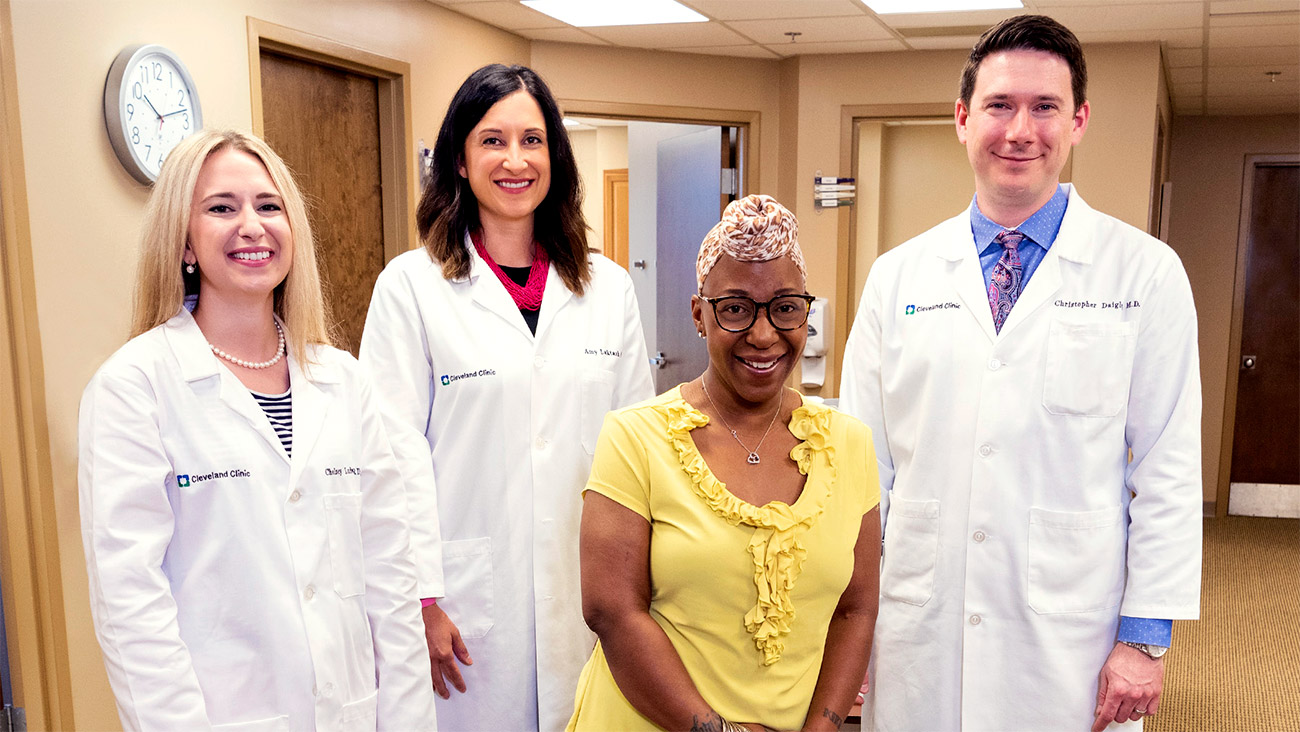 Lottie with her team of caregivers: (left to right): Chelsey Ludwiczak, registered dietitian, Amy Laktash, nurse practitioner, and Dr. Christopher Daigle, Medical Director and Chief of Bariatric Surgery at Cleveland Clinic Akron General.
"We tailor the surgical procedure to meet the patient's needs and risks," says Dr. Daigle. "With Lottie's history of arthritis, she would need to be able to take over-the-counter anti-inflammatory medications and oral steroids, so a sleeve gastrectomy was recommended."
Sleeve gastrectomy works by surgically removing the side part of the stomach while leaving a smaller tube for storing food. In gastric bypass surgery, the stomach is also made smaller, and part of the small intestine is rearranged so that food bypasses it. The main difference is that gastric bypass bypasses part of the intestines, sleeve gastrectomy does not.
While there were many challenges after surgery, and foods she used to love no longer taste good, Lottie surpassed her goals, losing 71 pounds by her one-year visit, lowering her blood pressure and eliminating the need to take prescription medication for her arthritis. "Weight loss surgery is not the easy way out, it's life changing and takes commitment. Lottie works hard with diet and exercise," says Dr. Daigle.
She also has some advice for those who might be feeling miserable like she was. "It's your journey. Think about the rest of your life. I was at a point I could not enjoy my family. You have to block out the negative comments, and really, really believe in yourself," says Lottie.
Patient Stories
Patient Stories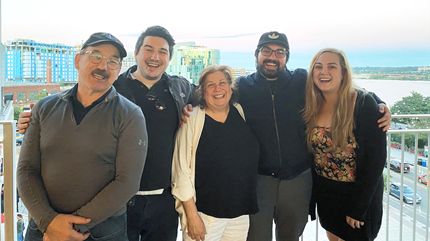 Nov 22, 2023
"I was truly blessed to be with the doctors and the entire cardiac surgery team. They saved my life."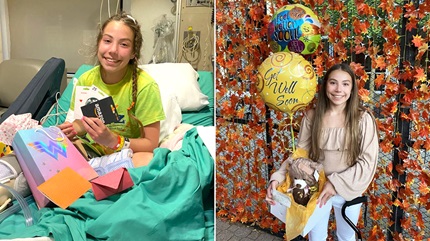 Nov 16, 2023
"I wanted the surgery because my seizures were becoming more and more frequent. I would wake up, have a seizure, and then continue to have them throughout the day. I just wanted the seizures to be gone."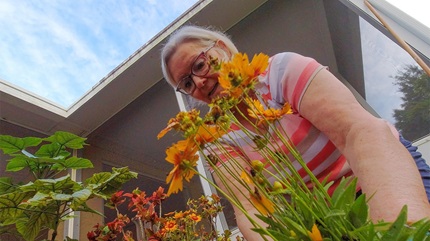 Nov 15, 2023
"I was very fortunate they found the tumor when they did."