The Hosts
The Health Education Campus of Case Western Reserve University and Cleveland Clinic will host the first presidential debate Tuesday, Sept. 29, in its Sheila and Eric Samson Pavilion. The campus opened in 2019 and is a joint project among the two institutions.
Case Western Reserve University
Case Western Reserve University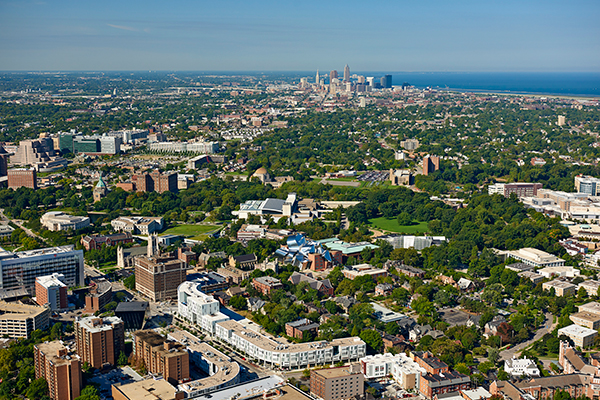 One of the nation's leading research universities, Case Western Reserve enrolls more than 5,100 undergraduate students and nearly 7,000 graduate and professional students representing 94 countries.
Located minutes from downtown Cleveland in the cultural hub known as University Circle, the park-like, urban campus is just steps away from some of world's top hospitals, museums and performance spaces—giving students a chance to engage with academics and extracurricular activities in a diverse and engaging environment.
Plus, students can get hands-on experience in state-of-the-art facilities, such as the Sears think[box], a 50,000-square-foot open-access innovation center that has recently become a pandemic problem-solver; its employees are working with area hospitals to devise solutions to help fight COVID-19, including 3D-printed face shields and a decontamination system for N95 masks.
In classrooms and labs across campus, students learn from faculty who are renowned in their fields. With expertise in everything from accounting to art history, polymers to political science, and statistics to systems engineering, Case Western Reserve's 3,500 campus and clinical faculty members are active scholars who bring their enthusiasm for research and innovation to students and colleagues.
Case Western Reserve graduates take what they learn here to make real-world impact. Among its more than 110,000 alumni, the university counts Paul Buchheit, creator of Gmail; Peter Tippett, developer of the first antivirus software; Stephanie Tubbs-Jones, the first Black Ohio congresswoman; Fred Gray, legal defender of Martin Luther King Jr. and Rep. John Lewis, among others; Julie Gerberding, the first female director of the Centers for Disease Control and Prevention; Frank Rudy, inventor of the Nike Air Sole; as well as acclaimed film directors and actors, politicians, Nobel laureates, CEOs, authors and change-makers.
Visit case.edu to see how Case Western Reserve thinks beyond the possible.
By the Numbers
| | |
| --- | --- |
| | 12,000 Students |
| | 3,500 Faculty |
| | 3,100 Staff |
| | #13 University for translating research into commercial success |
| | #18 University for contributions to innovation |
Cleveland Clinic
Cleveland Clinic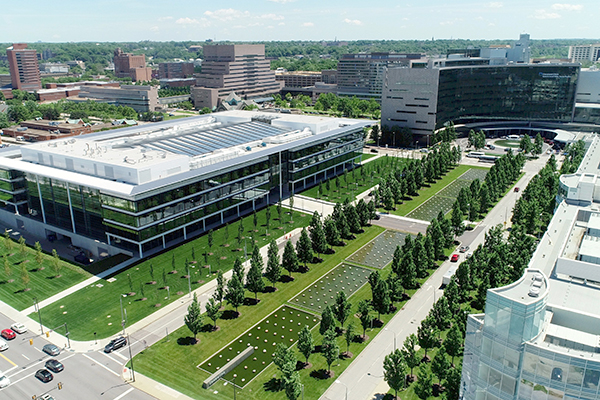 Cleveland Clinic was founded in 1921 by four prominent physicians with a vision to create a hospital based on the innovative teamwork of World War I military hospitals, which three of them had experienced firsthand. Together, they established a doctor-led, not-for-profit medical center, a model unique for its time. Nearly 100 years later, the founders' vision remains Cleveland Clinic's mission: "Provide better care of the sick, investigation into their problems, and further education of those who serve."
What began with a staff of six surgeons, one radiologist, four internists and one biophysicist has grown into a worldwide and world-renowned healthcare system. Today, Cleveland Clinic employs more than 67,000 caregivers globally, with more than 4,500 salaried physicians and researchers, and 17,000 registered nurses and advanced practice providers, representing 140 medical specialties and subspecialties.
As a nonprofit multispecialty academic medical center, Cleveland Clinic integrates clinical and hospital care with research and education. The 6,026-bed health system includes a 165-acre main campus near downtown Cleveland, 18 hospitals, more than 220 outpatient facilities, and locations in southeast Florida; Las Vegas, Nevada; Toronto, Canada; Abu Dhabi, UAE; and London, England. In 2019, there were 9.8 million total outpatient visits, 309,000 hospital admissions and observations, and 255,000 surgical cases throughout Cleveland Clinic's health system. Patients came for treatment from every state and 185 countries.
Driven by a philosophy that discovery and innovation can improve patient lives, Cleveland Clinic has been a leading innovator, including pioneering open heart surgery, inventing coronary angiography, performing the first coronary bypass surgery, completing the first nearly full facial transplant, in addition to breakthroughs in cancer, heart disease, Parkinson's disease and stroke. Many of these discoveries now are standard practice in medicine.
By the Numbers
| | |
| --- | --- |
| | 67,000 Caregivers worldwide |
| | 18 Hospitals |
| | 220 Outpatient facilities |