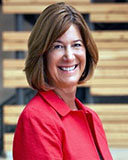 Mindy Rich is the Chairman and a Managing Shareholder of Rich Holding, Inc., Rich Products Corporation and a Managing Shareholder of Rich Products Corporation. She joined the company in 1985 and has proceeded to work in various roles as part of the leadership team including Executive Vice President of Innovation. She serves on the corporate Board of Directors for Rich Products Corporation and as Chairperson for the Board's Finance and Audit Committee and Compensation and Organization Committee. In addition, she serves as Executive Vice Chair of Rich Entertainment Group and is responsible for overseeing the organization's baseball, theater, restaurant and travel interests.
Mrs. Rich is a member of: the corporate Board of Directors and the Nomination, Compensation and Governance Committee for M&T Bank Corporation; the Board of Directors of Grove Entertainment; and the Senior Advisory Committee for BDT & Company, LLC. She is a Trustee, Member of the Executive Committee and Co-Chair of the Marketing Committee for the Rock and Roll Hall of Fame + Museum. She is active in a wide range of charitable activities. She previously served as a member of the board of directors of the Manufacturers and Traders Trust Company and the Wm. Wrigley Jr. Company. She also served on many other boards including the Culinary Institute of America (CIA) board and as chair of its education policy committee, Vice Chair of the Cleveland Clinic's executive board of "Today's Innovations, Tomorrow's Healthcare" campaign, the Cleveland Clinic's Wellness Institute Leadership Board, the Erie Canal Harbor Development Corporation board, the National Foundation of Celiac Awareness board and The Don Hawley Foundation board. She also served as an honorary director of the Mariners Hospital Foundation in Tavernier, Florida.
In 1986, Ms. Rich and her husband founded Western New York United Against Drug and Alcohol Abuse, a nonprofit organization, and continue to serve as Chairpersons Emeritus for the organization. Among other charitable activities, she is especially focused on fundraising geared toward finding a cure for cystic fibrosis. The Richs founded and chair the annual Greater Niagara BassEye Celebrity Challenge, which has raised more than $1.3 million for cystic fibrosis research.
Over the years, Ms. Rich has received numerous awards and honors for her work, including the Women's Foodservice Forum Titan Award (2019), the Distinguished Fellow Award (2015) from Cleveland Clinic's 1921 Society and the Women's Foodservice Forum Trailblazer Award (2010).
Ms. Rich holds a Bachelor of Arts in Psychology from the University of Colorado. She received an Honorary Doctorate of Humane Letters from the Culinary Institute of America, an Honorary Doctorate of Laws from D'Youville College and an Honorary Doctorate of Humane Letters from Canisius College.
Cleveland Clinic – Director
First Elected to the Cleveland Clinic Board in 2021