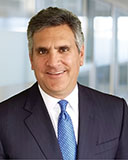 Michael B. Petras, Jr. is the Chairman and Chief Executive Officer of Sotera Health Company, a position he has held since June 22, 2016. Sotera Health is the world's leading fully integrated provider of mission-critical health sciences, lab services and sterilization solutions for the healthcare industry. Michael has more than twenty-five years of leadership experience, most recently serving as President and Chief Executive Officer of Cardinal Health's Post-Acute Solutions segment. Previously, he was the Chief Executive Officer of AssuraMed, a leading medical products supplier, which Cardinal Health acquired in 2013. He also worked at General Electric for approximately two decades, including serving as President and Chief Executive Officer at GE Lighting and Industrial.
Michael currently serves as a board member of The Cleveland Foundation and John Carroll University. He previously served on the board of the Greater Cleveland Partnership. He is a past board member of Achievement Centers for Children and the United Way of Cleveland.
Michael earned a Bachelor of Science degree in finance from John Carroll University and a Master of Business Administration degree in marketing from Case Western Reserve University.
Cleveland Clinic – Director, Vice Chair, Finance and Business Development, Board of Directors

First Elected to Cleveland Clinic Board in 2016
Board Committees: Finance (Chair); Governance