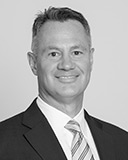 Richard Kramer is Chairman, Chief Executive Officer and President of The Goodyear Tire & Rubber Company. He became CEO in 2010 and was elected Chairman by Goodyear's Board of Directors later the same year. His appointment as CEO culminated a steady rise through the company in a series of key leadership roles over the course of a decade. After joining Goodyear in 2000 as vice president of corporate finance, he served as vice president of finance for the company's North America business from 2002 to 2003. Prior to joining Goodyear, he was a partner with PricewaterhouseCoopers, where he spent 13 years, including a three-year assignment based in Paris, France.
Mr. Kramer serves on the Board of Directors for The Sherwin-Williams Company. He is a member of the Business eCouncil. He is an active John Carroll University (JCU) alumnus and has served on the school's Board of Trustees since 2007. Mrs. Kramer also graduated from JCU and the couple has been generous supporters of the institution. Mr. and Mrs. Kramer are Co-Chairs of JCU's The Forever Carroll Campaign. Mr. Kramer is also engaged in community leadership roles with the Akron Regional Chamber of Commerce and Akron Tomorrow. Previously he served as a member of the board of directors of Summa Foundation and Walsh Jesuit High School.
Mr. Kramer received a Bachelor of Science in Business Administration from JCU.
Cleveland Clinic – Director
First Elected to Cleveland Clinic Board in 2017
Board Committees: Compensation; Finance