Patient Perspectives
You Talk. Cleveland Clinic Listens.
Who We Are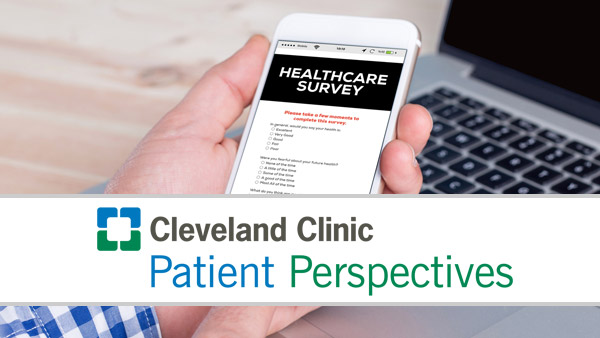 Who We Are
Cleveland Clinic Patient Perspectives is a special community of Cleveland Clinic patients who share their ideas and experiences in online surveys, polls and other activities. As a Patient Perspectives community member, you will receive invitations by email roughly once a week and be asked to complete short online activities on a variety of topics, such as:
Improving our websites
Assisting in development of new products and services
Helping design Cleveland Clinic mailing pieces
Shaping new initiatives through focus groups with fellow patients
Providing feedback to improve your patient experience
Identifying the best way(s) to communicate with our patients
Get started now
We'd love for you to join in. Here's how to join what to expect:
Let us know you want to participate. It's easy to become an official Cleveland Clinic Perspective Community member. Click the button at the bottom of this web page to take a short survey. Then be on the lookout for a confirmation email sent to your email address.
We'll email you activities from time to time. You'll receive surveys, polls, discussions and more on a variety of topics.
Complete the activity — or pass. There's no obligation to participate in every activity, so respond to as many or as few as you like.
From time to time we'll be sharing overall results of community activities. Information will be used it to improve services and experiences for you and other Cleveland Clinic patients.
To thank you for your time and participation, you will have an opportunity to win rewards, like gift cards to some of your favorite stores. Your feedback will always be kept confidential, and the information will be reviewed along with other patients, not on an individual level.
Do you qualify for the community?
To see if you qualify for the community, please click the survey link below. This initial survey should take about 7 to 10 minutes to complete. Also, if you have been to a Cleveland Clinic location recently, you may receive an email invitation to join from support@clevelandclinicperspectives.org.
Get started now
Get started now