Something doesn't seem right. Your child has a lump in their neck and a sore throat that won't go away. And instead of growing, they're losing weight.
---
Finding out that your child's recent symptoms are part of Hodgkin lymphoma can turn your world upside down and may leave you with many serious questions and concerns. We want you to know that you're not alone.
When you partner with the childhood cancer experts at Cleveland Clinic Children's, you'll get answers to all your questions. Our compassionate team provides cancer treatment that's personalized to your child's needs and focused on our most important goal — making your child lymphoma-free for the rest of their life.
Why Choose Cleveland Clinic Children's for Hodgkin Lymphoma Care?
Recognized expertise:
Our board-certified and fellowship-trained pediatric oncologists (cancer specialists) and radiologists have years of training and experience diagnosing and treating childhood lymphomas. We work together to create a treatment plan that's best for your child. Meet our team.
National recognition:
U.S. News & World Report consistently recognizes Cleveland Clinic Children's as a national leader. Newsweek has also named us a top hospital in the world.
Caring approach:
Your child's health and comfort are our top priorities — that's why treatment reaches beyond medical therapies. We also offer supportive programs, like counseling, art therapy and music therapy to help your child process their emotions and express how they feel.
Patient-centered care:
We understand how overwhelming a child's cancer diagnosis can be. Our nurse navigators and dedicated pediatric psychologist and pediatric social worker, physical therapists and music and art therapists offer support and connect you with resources. We do whatever we can to make treatment easier on your child — and on you.
Virtual visits:
If you have questions or concerns that are not symptom related after your child has completed treatment, you can often meet with your provider virtually from the comfort of home. This convenient alternative to an in-person visit is safe and secure. All you need is a smartphone, tablet or computer.
Hodgkin Lymphoma Diagnosis at Cleveland Clinic Children's
During your first visit, we're here to listen. We'll talk with you about everything you and your child have been experiencing, including their medical history and whether you have any family history of lymphoma. We'll also give your child a physical exam and carefully review their symptoms. This may include swelling on their neck or in their armpit, which can happen because Hodgkin lymphoma starts with tumors that form in the lymph nodes. Your child also may be experiencing a cough that keeps coming back. They might have a fever, feel really tired and not be hungry. You may also notice your child is losing weight, or they may complain about night sweats. We'll work with you to determine if these are signs and symptoms of lymphoma or another kind of illness.
After learning about your child's symptoms, we may recommend doing tests to see if there's lymphoma anywhere else in their body. These can include blood tests, a biopsy of the tumor and imaging tests, like a chest X-ray and MRI, CT and PET scans.
Using these tests, we can learn what type of Hodgkin lymphoma your child has and see if the cancer has spread so we know its stage. All of this will help us plan the right treatment for your child.
Getting a Second Opinion for Hodgkin Lymphoma at Cleveland Clinic Children's
We know that you want only the very best for your child. And when they're facing a life-changing illness like cancer, the very best means top medical care from compassionate providers. That's why we encourage second opinions.
Our children's cancer specialists will take the time to answer your questions and listen to your concerns. We'll explain treatment options and offer our expertise. We'll be there for you. And since we know cancer doesn't wait, we always try to schedule your child's appointment with us as soon as possible. Second opinions can give you the reassurance that you and your child are in the most capable hands.
Providers Who Treat Hodgkin Lymphoma
Locations
We offer treatment for Hodgkin Lymphoma at the following locations in Northeast Ohio.
Hodgkin Lymphoma Treatment at Cleveland Clinic Children's
Our providers treat all types and stages of Hodgkin lymphoma in children. We'll take the time to talk with you about what we learn and work with you to develop a personalized treatment plan for your child.
In developing the best treatment approach for your child, we may use:
Taking the Next Step
Finding out your child has cancer is life changing. But it's not a diagnosis you or your family will have to face alone. At Cleveland Clinic Children's, we are here to provide your child with the very best care. We also understand how important it is for you to know to what to expect during your child's treatment process. We're here to prepare you and your child for the road ahead, and we'll be there every step of the way.
Make an Appointment
Getting an appointment with Cleveland Clinics Children's Hodgkin lymphoma experts is easy. We're here to care for your child.
---
Billing & Insurance
Manage your Cleveland Clinic account. Find billing information and financial assistance, plus FAQs.
---
MyChart
Securely access your personal health information at any time, day or night.
---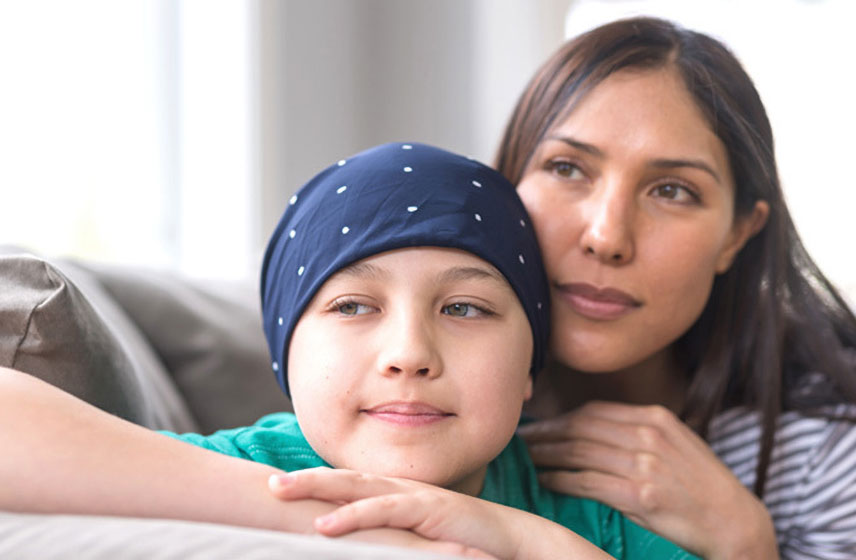 Survivorship
Learning your child has cancer can be stressful, shocking and challenging. From the moment you get the news, your child is a survivor. As you face the challenges that go along with their cancer treatment and recovery — physical and emotional — we'll be right there with you. At Cleveland Clinic Children's, survivorship care is one part of your child's journey. Through our Childhood Cancer Survivorship Program, you'll find support for any medical and emotional challenges that may happen in the years following cancer treatment.
We're also there for you throughout this entire journey. We offer a wide range of services, resources, clinics and support groups to help with any physical, emotional, financial and spiritual needs you might have related to your child's cancer diagnosis. Lending a helping hand along the way, we want your child to not only survive, but thrive on this journey and beyond.