Evaluations
Evaluations
Autism Spectrum Evaluation Team (A.S.E.T.)
Interdisciplinary Evaluation Clinic
Autism is a neurodevelopmental disorder, which impacts communication, socialization, and behavior. Some children display signs of autism at a very early age. We will see children at the age of first concerns; children who show developmental delays and symptoms characteristic of an autism spectrum disorder, or who have failed an autism screenings. We also see adolescents and adults.
We conduct interdisciplinary evaluations, utilizing evidence based measures, allowing for multiple providers to spend time with the family and patient. This in turn allows us to provide a comprehensive evaluation of overall development and medical needs and offer families extensive treatment recommendations and guidance.
Interdisciplinary teams include a medical provider, psychologist, speech and language pathologist, and clinical assistant.
These evaluations take place over the course of two weeks (with a two-hour appointment each week), and then parents / patient returns for the results of their evaluation. Evaluations consist of:
Consult with medical provider (Medical and developmental history)
Diagnostic interview with psychologist
ADOS (social/play based assessment)
Speech and language evaluation
Families / patients receive a comprehensive report which includes treatment recommendations and referrals to community resources.
Arrange an Evaluation
To arrange an evaluation, please contact the Center for Autism at 216.448.6440.
Lerner School
Lerner School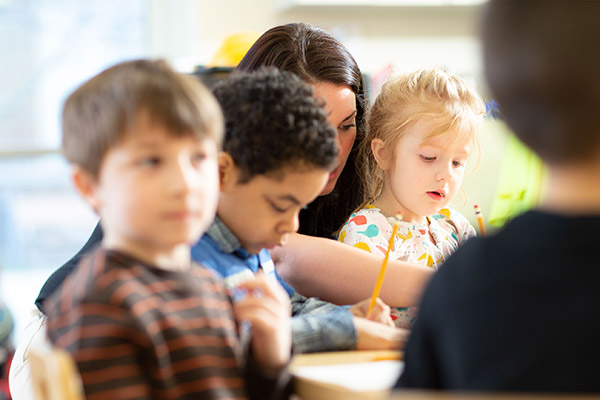 Cleveland Clinic Children's Lerner School for Autism
Program Description
Our chartered non-public school, certified by the Ohio Department of Education, serves students from the age of first diagnosis to 22 years. Licensed special educators, behavior analysts, speech/language pathologists and classroom behavior therapists have intensive training and experience in ABA. Parent training, observations and home visits are integral components of both of our programs.
Early Childhood l Program
An intensive full-day, year-round, center-based behavioral service for children 1 to 5 years of age. Tailored instruction focuses on development of skills across the domains of language and communication, socialization, play, adaptive behavior and toilet training.
School-Age Program

An intensive full-day, year-round, center-based behavioral program. Tailored instruction focuses on communication, socialization, academics, adaptive behavior, vocational preparation and transitional services. Applying skills in community settings is emphasized.
Program highlights include:
Assessments to drive individualized program development
Individualized daily schedules
Small staff to student ratio with opportunities for 2:1 and small group instruction
Neuro-typical peer models in the Infant/Toddler and Preschool programs
Speech language therapy services

Determined based on the results of initial and on-going assessments
Individual, group, integrated, and consultation services
Collaboration with classroom staff through regular curriculum meetings and classroom consultation
Staffing

With over 100 staff, the multi-disciplinary team at the Lerner school is comprised of:
Psychologists
Psychiatrist
BCBAs
Teachers
Speech Language Pathologists
Occupational Therapists
Physical Therapists
Classroom Behavioral Therapists
Tours
We offer free public tours which include an overview of our outreach and consultation services, a walkthrough of the Lerner School for Autism classrooms, as well as our dedicated clinical and research areas.
To schedule a tour call 216.448.6440. Our tours are for informational purposes only and not medical or clinical consultation.
If you are interested in scheduling an individual consultation or assessment, please call 216.448.6440.
Outpatient Therapy
Outpatient Therapy
Cleveland Clinic Children's Center for Autism offers multiple outpatient therapies across our two locations and in-home. All our therapists are trained in Applied Behavioral Analysis (ABA) and use behavioral techniques in therapy.
Speech & Language Therapy
The speech/language therapy team includes therapists trained in PROMPT©, a multidimensional approach to speech production. The Center for Autism's outpatient speech department specializes in providing the following services for patients with ASD:
Individual therapy
Small group therapy
Speech/language evaluations
Augmentative/alternative communication evaluations
Locations offered: Cleveland Clinic Children's Hospital for Rehabilitation & Rocky River
Occupational Therapy
Occupational therapists evaluate fine motor, play, sensory processing and self-care skills in children with ASD. They aim to maximize functional independence by teaching adaptive techniques and using adaptive equipment. These skills are important to everyday functioning, including school and home tasks.
Behavior Therapy
Our behavior therapists work with children who have ASD and their parents to manage behaviors, encourage academic success, and improve social and communication skills. We develop a specialized program just for you and your child using the science of ABA. Services include:
Assessment
Treatment planning
Functional behavioral analysis
Ongoing therapy
Tutor training and support
School-based support
Parent training
Available locations:
More Information
For more information about outpatient services at the Cleveland Clinic Children's Center for Autism, 216.448.6440.