Awards
Awards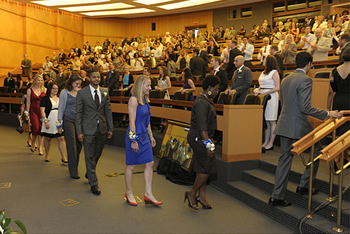 Students have the opportunity to compete for many awards, internal and external, ranging from the Cleveland Clinic Innovator Award to the Annual Abstract Poster Competition from the American College of Physicians. And awards are earned in various categories, from research and academic performance to leadership skills.
Grants & Patents
Grants & Patents
Grants help fund clinical investigation, and many of our students, who are studying to become physician investigators, have been awarded significant grants. Some of our students have also applied for and received patents.
2021
Society for Investigative Dermatology, Increased Risk of Hospital Acquired Sacral Pressure Injuries in COVID-19 Patients
Assessment of Atrial Myocardial Viability Using Spectral Analysis of Ultrasound
2020
Central Surgical Association, Comparing the Sugarbaker versus Keyhole Mesh Techniques for Open Retromuscular Parastomal Hernia Repair: A Registry-Based Randomized Controlled Trial
2019
Cleveland Clinic Research Program Committees, Effect of a synthetic cannabinoid, nabilone, on postoperative pain after ureteroscopy for urinary calculi
American Academy of Neurology, Advancing the Therapeutic Benefit of Deep Brain Stimulation in Stroke Rehabilitation using a Physiologically-based Closed-Loop Approach
Cleveland Clinic Neurosciences, Advancing the Therapeutic Benefit of Deep Brain Stimulation in Stroke Rehabilitation using a Physiologically-based Closed-Loop Approach
2018
HIV Medical Association, Root Cause Analysis of Misdiagnosis of HIV in the Emergency Department
National Institutes of Health (NIH), Immune modulation by cell cycle checkpoint kinase 1 (CHK1)inhibition in high-grade serous ovarian cancer
2017
American Brain Tumor Association, Exploring the Role of Serpin B3 as a Cancer Stem Cell Maintenance Factor
Cleveland Clinic Research Program Committee, Invasive Endocarditis: Exploring the Role of Pressure, Pathogen, and Host Immune Response
2016
American Society of Hematology, Parent and Clinician Perspectives of Transplantation as Treatment for Sickle Cell Disease
Autism Research Institute, Proteomic Studies of Autistic Brain
Cleveland Clinic Lerner Research Institute, Multidisciplinary Study of Ascending Tissue Characteristics and Hemodynamics for the Development of Novel Aortic Stengrafts (MATADORS)
Cleveland Clinic Research Programs Council, Development and Validation of Models for Predicting Route of Childbirth and Readmission
Fulbright U.S. Student Program Grant, Predicting hypertension in pregnancy among women with polycystic ovary syndrome
Howard Hughes Medical Institute, Identification of Potential Genetic Drivers of Metabolic Heterogeneity and Altered Metabolic Utilization in Prostate Cancer
Howard Hughes Medical Institute, Identifying Drivers of Chemoresistance in Group 3 Medulloblastoma through a Genome-wide CRISPR/Cas9 Activation s=Screen
National Psoriasis Foundation, The Role of the Skin and Gut Microbiome in the Pathogenesis of Psoriasis
Publications
Publications
Publishing clinical findings in peer-reviewed journals is a priority for our students. Not only does publishing earn academic recognition, but it is also the gold standard for sharing new medical knowledge with the world.
Abstracts, Posters, Oral Presentations
Abstracts, Posters, Oral Presentations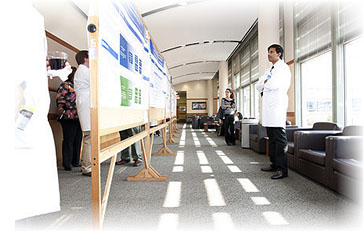 Presenting an abstract or a poster, or making an oral presentation demonstrates scientific achievement. Most often, these presentations are made at national medical conferences, allowing the students to earn additional academic recognition.
Teaching & Service
Teaching & Service
While it might sound surprising that a medical student would teach, our students are encouraged to share their knowledge with others. Teaching allows students to test their own understanding while giving others the benefit of their knowledge. Most often, our students help teach students who are studying to become physician assistants.
Our students also are encouraged to give back to the community through service. Many work in health clinics in underserved areas, and others participate in an annual medical mission to Peru.