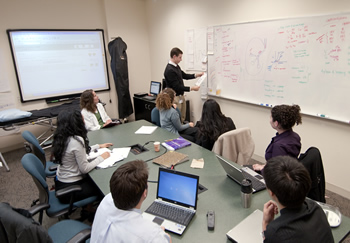 A Student-Centered Approach to Learning
Problem-based learning (PBL) is the core of the first- and second-year curriculum. Unlike traditional teaching methods that use a faculty-driven lecture format, PBL is case-driven and student-centered. Learning is student-driven.
Student-Centered Approach
PBL groups include eight medical students and one faculty facilitator whose role is to help ensure that students address the learning objectives of each week's PBL case.
Each week, PBL groups receive a clinical case developed by CCLCM faculty. Each case is carefully crafted so students can:
Identify basic science learning objectives
Understand and work through the clinical science and medical humanities concepts underlying each case
The cases provide a framework for students to generate a hypothesis and develop focused questions about the case's specific learning objectives.
Each student researches one or more learning objectives and shares what they learned with the group. Students receive feedback from their peers and faculty facilitators. Active participation from all group members is expected.
Students remain with their group between four and 10 weeks, depending on the organ system being studied. View a PBL case example.
The result is that students learn how to work in a team to maximize knowledge acquisition and develop collaborative interpersonal skills. PBL allows students to take responsibility for their own learning and for that of their peers.
Just Like Real Life
Long-term success in science and medicine requires self-directed learning and effective group process skills. PBL helps students develop this mindset, along with critical thinking and clinical reasoning skills. PBL helps foster collaborative learning and interpersonal communication.
The PBL cases provide a relevant clinical framework for learning basic science concepts. The constant interaction and student-driven learning are what make our program dynamic and are what develop physician investigators who are thoroughly comfortable with a team approach to clinical medicine and research.
In short, the PBL method mimics the clinical practice of medicine.