Overview
Overview
An Innovative Curriculum
First, view our philosophy video about the curriculum and then take an in-depth look at the five-year curriculum.
Teaching methods focus on interactive learning and applying knowledge through problem-based learning (PBL), seminars, problem sets, electronic-based curriculum and labs. Formal lectures are few and discouraged.
The integrated research curriculum extends throughout the five years and includes hands-on research experience during the first two summers of school and for the 12-month research thesis project.
The basic science curriculum is organ system-based, with traditional disciplines including anatomy/ histology, pathology, pharmacology, cell biology, physiology, immunology, infectious disease, oncology, bioethics,healthcare systems, bioinformatics and genetics woven through every course. Evidence-based medicine is taught throughout the five years.
Clinical experiences are integrated throughout the curriculum beginning early in year 1.
Students are expected to attend and participate in all curriculum activities as part of their professional responsibility.
A strong commitment has been made to our Humanities in Medicine program, which is an innovative and unique method of teaching students to become skillful and professional physicians.
During the last three years of the program, CCLCM students take their core clerkship at the Cleveland Clinic and can take clinical electives any of the teaching hospitals in Cleveland affiliated with CWRU. In addition to core clerkship experiences, Cleveland Clinic provides advanced clinical electives, typically taken in year 4, for all CWRU medical students. More than 55 elective rotations in specialty areas are available to CWRU students and other medical students around the country, as available.
Inter-professional education, or IPE, is all about preparing healthcare students to work together for the benefit of the patient. In today's healthcare landscape, caring for patients is a team sport. An average hospital patient interacts with dozens of healthcare professionals. Doctors, nurses, therapists, social workers and other professionals work side by side to provide quality, coordinated care. Thus, when students from various healthcare disciplines learn together, they are better able to work together in the future.
Clinical
Clinical
The clinical curriculum is designed to ensure that all CCLCM graduates develop broad-based clinical expertise. The program uniquely integrates patient care experiences with basic science and research beginning in year 1.
In year 1, students engage in half-day longitudinal case sessions with a primary care physician who meets individually with them every other week. In year 2, the sessions increase to weekly. Students have an opportunity to evaluate new patients and to maintain continuity with past patients during these sessions, and have a close mentoring relationship with faculty.
In year 1, student performance is observed with the goal of providing feedback on the skills being taught in the physical diagnosis and communication skills sessions. Standardized patients participate with faculty and students in their courses.
During the research experience in years 3 through 5, students maintain their relevant clinical experience.
All students:
Work with a primary care longitudinal preceptor throughout years 1 and 2 to refine physical diagnosis and communication skills, and to longitudinally follow patients
Maintain patient logs to help track the breadth and depth of clinical exposure, which ensures a comprehensive experience
Use ongoing assessment of clinical exposure, basic science and clinical competency, and future professional interests to tailor clinical experiences to their needs and interests
These activities are supplemented with communication skills and physical diagnosis sessions using standardized patients, simulation modules and discussion of videotaped sessions with faculty.
Core clinical experience requirements during years 3 through 5 are the same for CCLCM students and students in the University Program. Students from both programs may rotate to any of the major teaching hospitals that are part of the CWRU teaching system.
Research
Research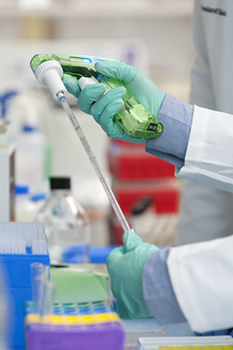 An Integrated Research Curriculum
The research curriculum begins on the first day and extends through all five years with research topics integrated into the basic science and clinical curricula. Students learn about the interaction between basic and clinical research, how basic science discoveries translate into changes in clinical care and how clinical observations can result in new directions in basic science and research.
Beginning with the Class of 2018, students are strongly encouraged to conduct their thesis research in Year 4. All thesis research rotations are to be taken as a contiguous 52-week block that allows up to 4 weeks of vacation. Any variations must be approved by the Research Education Committee. Obtain detailed copy of thesis expectations and guidelines in the "Resources" section on the portal or from the Research Education Coordinator.All thesis research rotations are to be done at the Cleveland Clinic, Case Western Reserve University, or an affiliated institution. Only students that have been awarded a NIH, Doris Duke, Fulbright or Sarnoff Fellowship will be permitted to complete their research year outside of Cleveland.
Students learn the basic principles of research, including:
Research design and data analysis
Ethical issues such as the use of animals and protection of human subjects in research
Critical review of the basic science and clinical research literature
In addition, students develop and use grant writing and oral presentation skills in school that will help prepare them for the years ahead.
Learn more below.
Basic: Every student participates actively in a basic "translational" research project in the first summer, preparing a mock research proposal and an oral presentation.
Clinical: In the second summer, each student writes a clinical research protocol and participates in a clinical research project while taking courses in applied biostatistics and epidemiology.
Advisors/Preceptors: During years 3 through 5, students have a research advisor who oversees their thesis project. In addition, students work with a basic science researcher (year 1) and clinical investigator (year 2) on summer research projects.
Opportunities: Research is one of the four cornerstones of Cleveland Clinic and is actively pursued by basic scientists and physicians working in close collaboration. Cleveland Clinic is a world leader in medical breakthroughs and innovations largely because of such collaborations.
Cleveland Clinic offers a broad range of research experiences for CCLCM students. The biomedical research effort here includes:
4000 active, IRB-approved human research protocols
nearly 200 laboratory principal investigators with $112 million of federal funding support
integrated research curriculum with hands-on research experience
$248 million of total research
Clinical Science and Technology Award with more than 300 outstanding clinical investigation projects
interdisciplinary and disease-oriented research that links basic scientists and clinical investigators in eight disease categories and includes three dozen research programs
In addition to Cleveland Clinic research opportunities, CCLCM students can choose from a wealth of research experiences at Case Western Reserve University and its affiliated teaching hospitals.
CWRU School of Medicine ranks among the top 25 research institutions in the United States, with more than $243 million in NIH funding. Research programs are available in a broad range of basic science and clinical disciplines.
Research Seminars: Throughout years 1 and 2, weekly Advanced Research in Medicine (ARM) seminars (PDF), integrated with the content of the basic science curriculum, are led by physician investigators and basic science researchers. ARM seminars provide students with exposure to a broad range of research opportunities available to them.
In years 3 through 5, ARM sessions continue bringing greater grant writing and research skills, opportunities to present at home and away, and advice for publishing.
Journal Club
In the summer of years 1 and 2, students have a journal club aimed at enhancing skills in interpreting and evaluating research literature.
Students are divided into two journal club groups. Each week, one student from the group presents an article while the other students are expected to read the articles carefully and come prepared with questions for the presenters.
Each student is responsible for one paper each summer. The student works with a faculty facilitator to review the paper and presentation before journal club.
Using feedback from faculty and other students on their presentations and on the questions they ask of others, students hone their ability to critically review literature and communicate effectively in this setting.
New Addition!
Chats with top Cleveland Clinic administrators over breakfast or an evening event began in the Summer of 2015. These student inspired sessions were requested to enable CCLCM trainees to learn how one of the nation's highest ranking health systems functions. Open exchange of questions allows students to get closer to what makes the Cleveland Clinic tick. Medical homes, care affordability, capitated care, and transitioning into the next generation of healthcare will be discussed from the ground floor up. Patient experience officers,quality gurus, and others join in these exciting and thoughtful discussions.
Combined MD/Master's Degree
Combined MD/Master's Degree
If you're interested in a combined degree to enhance your research skills and expertise, you can coordinate earning a master's degree in selected areas with the MD curriculum.
Most programs require three to nine extra courses, usually concentrated in the first two years, but you can receive some credit toward a master's degree from courses taken as part of the MD program.
We encourage you to develop a thesis project that satisfies the requirements of both the MD and master's degree programs. The remaining master's degree requirements are integrated into the clinical and research program in years 3 through 5. Most master's degree programs are designed to be completed during the five-year program at no extra cost.
If you are in good standing, you can choose from several graduate programs:
MD/MS in Biomedical Investigation with tracks in biochemistry, clinical research scholars, informatics, epidemiology and bio-statistics, nutrition, pathology, pharmacology, biochemistry, physiology and biotechnology
MD/MPH
MD/MA in Bioethics
MD/MS in Biomedical Engineering
Basic Science
Basic Science
The basic science curriculum is designed to give students a broad-based foundation of knowledge of the complex human biological systems. During the first two years, the basic science curriculum is organized by organ system (e.g., cardio-respiratory, renal biology) with 15 curricular threads basic to medicine (e.g., physiology, anatomy/embryology, cell biology, biostatistics/epidemiology, bioethics) integrated across the courses. Normal cell and organ system function is the focus in year 1; the year 2 curriculum emphasizes abnormal function and reinforces the content from year 1.
Weekly themes guide the organization of each course (e.g., "The Heart as a Pump" during the year 1 cardio-respiratory course) and provide a focus for student learning. When possible, the curriculum integrates the basic science, clinical and research curriculum components around these weekly themes.
A problem-based learning (PBL) case provides the core for each week's learning objectives. Students are encouraged to apply their knowledge through problem sets and cases during the week's interactive seminars, which are designed to enrich the understanding of core concepts related to the theme of the week.
Self-directed Learning
The approach to learning basic science is based on adult learning principles where students take responsibility for their own learning and that of their colleagues. PBL and interactive, problem-solving seminars are designed to help students develop extensive skills in learning both independently and in teams — skills that are essential for excellent physicians and successful researchers.
Our competency-based assessment system reinforces these skills by helping students learn to accurately assess their own strengths and weaknesses, and create learning plans for themselves. They also develop teaching skills important to the rest of their career.
Curriculum Structure
During years 1 and 2, each week includes 11 hours of scheduled basic science curriculum, six hours of PBL and eight hours of labs, seminars and problem sets.
In year 1, an additional seven hours is devoted to clinical and research curriculum topics, which are integrated as much as possible with the basic science curriculum.
In year 2, students have an additional 14 hours of basic science, including an added clinical experience.
Students have most afternoons free to review and prepare educational materials, explore topics in more detail, work toward a master's degree and engage in extracurricular activities.
Medical Humanities
Medical Humanities
As medical innovation and scientific discovery continue at an extraordinary pace, so too does the demand for medical professionals who appreciate the ethical, historical and human aspects of medicine. The field of medical humanities grew out of this need to combine the science of medicine with an understanding of the broader context of healthcare delivery and its meaning to people and society.
Recognizing the importance of humanities in training the physician leaders of tomorrow, CCLCM offers medical humanities coursework throughout its five-year program. Directed by Martin Kohn, PhD, the program is a collaborative partnership between CCLCM and the Center for Ethics, Humanities and Spiritual Care.
Stethos Medical Humanities Journal
For 10 years, Stethos — our journal highlighting humanities works by our students — has provided an outlet for creative reflection and a chance to connect through writing, poetry, images and photography.
What Humanities Offers
Our medical humanities teaching and learning techniques are grounded in:
Perspective The recognition that exposure to multiple points of view can lead to deeper and more nuanced understanding of one's own value system.
Process An approach to teaching that offers students the ability to cope with, and perhaps even find comfort within, the challenges of complexity and ambiguity.
Community betterment through the humanities and arts The opportunity to work with neighborhood organizations to improve the health and well-being of Clevelanders.
Currently, the first two years of the medical humanities curriculum comprise large and small group sessions, and four creative projects including reflective essays and an oral history of a long-standing Cleveland Clinic employee.
Why Humanities Matters
By studying medical humanities, students:
Realize the meaning of the human experience of health and illness and how that experience relates to the art of doctoring.
Are awakened to more fully experience the world.
Become well-rounded people who are skilled not only at medical care and research, but also in creative and humanistic approaches to medicine.
Partnerships with community organizations focused on health and wellness also provide opportunities for students to engage in creative work centered on the care of vulnerable groups within our society.
Another benefit is that students realize an "emotional attachment to place." As our students seek to build health in those they serve, they also will create a healthier community. This work may foster a sense of investment in Greater Cleveland, thereby encouraging our students to become lifelong residents committed to the growth, sustainability and wellness of our neighborhoods.
For additional information, see the Medical Humanities page on the Center for Ethics, Humanities and Spiritual Care website.
Anatomy & Embryology
Anatomy & Embryology
Our anatomy, embryology and imaging curriculum is unique in its approach and innovative in its design, providing students with a solid foundation on which to build their medical knowledge.
Our approach (case-directed anatomy), uses clinical cases to introduce anatomical concepts and facts, which are reinforced using prosected fresh cadavers (not preserved, so that texture and color remain accurate) and relevant imaging modalities.
Coursework includes:
Anatomy Sessions: Sessions are held each week in year 1 and less frequently in year 2. Students preview a clinical case with specific clinical questions and anatomical objectives to learn the relevant anatomy. Cases are then discussed in class with a clinical faculty member, followed by time in the cadaver lab focused on the anatomical topics of the week.
In the cadaver lab, students rotate through four prosected cadaver stations and review relevant radio-graphic imaging. Led by a radiologist, the imaging component in year and 1 and 2 is extensive.
Basic Science: Students review anatomy again in each of the basic science courses in year 2. Students can gain dissection experience by helping residents prepare the prosections for the year 1 and year 2 students. Anatomy is further reinforced during third-year clinical rotations, and surgical anatomy electives are available in years 3 through 5.
PA Anatomy Course: CCLCM students can serve as teaching assistants in an anatomy course for Physician Assistants (PA). In this role, the medical students prepare the cadaver dissections and instruct the PA students as they rotate around the laboratory.
Education Technology
Education Technology
Technology is used in almost every task that a physician-researcher is required to do such as looking up evidence for treating patients, surveying the scientific and medical literature for research, managing and analyzing data, presenting and disseminating information, communicating with colleagues and patients, and navigating patient medical records.
At CCLCM, we believe that integrating technology appropriately into education, learning, research and patient care throughout the five years of training helps prepare our students for the world of tomorrow. With this in mind, we are committed to providing you with all the appropriate tools and creating the right environment for you to develop a high level of comfort and confidence in using technology for everyday tasks.
Student Web Portal
The Student Web Portal is web-based and accessible without a Secure ID card. The portal's view can be customized for each student and includes:
Schedule/Calendar: Most learning occurs in small groups, which change several times a year. The system keeps track of your groups, location and learning material. You can download a personalized calendar from the portal to import into your Outlook calendar. You also can access a mobile-friendly version of the portal using any smartphone.
Syllabus: The system provides a customized view of the entire five-year syllabus for each student. Thus, a third-year student can view the cardiopulmonary course she took in the year 1, and the course may appear differently than the cardiopulmonary course a second-year student took in year 1. Students also can find their completed activities by searching in the learning objectives.
Learning Activities: Applications were developed for certain activities such as problem-based learning (PBL). Each PBL case is organized into three parts that are completed over a course of a week. Students in each (PBL) group develop learning objectives and resolve these before proceeding to the next part. The web app allows each group to proceed at its own pace and to upload group-specific learning material to the server.
Resources: A dynamic list of class-specific resources is maintained on the portal. Thus, a first-year student may see a link to basic science research, while a second-year student would see a link to clinical science research.
Contacts: The portal includes information about faculty and fellow students, pager numbers and a web-based alpha-paging application.
Patient Logs in Years 1 and 2
A special feature of the College Program is that you start interacting with patients during your first year of medical school. Patient interactions are done in a safe, controlled environment under the guidance of a longitudinal preceptor. You have access to an online patient-based experience (PBE) system that allows you to:
Enter your patient logs
Review learning objectives (clinical skills) for each week or block
Receive formative feedback based on observed interactions
Develop your evidence-based medicine skills by formulating clinical questions and searching for and reviewing evidence to answer those questions
Begin to write "SOAP" notes: subjective, objective, assessment, and plan.
You also will log patients seen through clinical exposure during your research year, approximately one half day per week to maintain your clinical skills.
Curriculum Vitae Builder
A well-formatted, complete and current CV is required when applying for research funding, residency programs and more. Because it can be difficult and time consuming to keep all this information in one place and format it differently for various requirements, we have developed a CV builder that allows you to enter your data and then, when required, produce an appropriately formatted CV with one click.