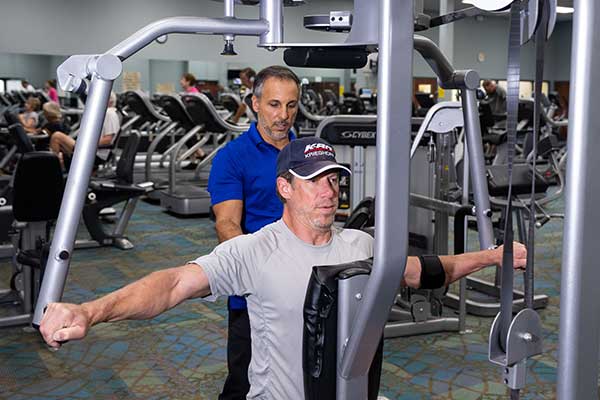 Go one-on-one with a credentialed personal trainer who motivates and coaches you through focused, individualized exercise sessions.
Complete this request to schedule your first personal training session. We'll help you find the perfect fit for your schedule, goals and fitness needs.
Learn more about personal training at Cleveland Clinic Martin Health & Fitness Center.
Meet Our Trainers
Name
Education / Certification
Area(s) of Specialization
Amy
Ace – Certified Personal Trainer Schwinn Indoor Cycling certified Yoga Fit certified
Over 19 years' experience with Cleveland Clinic Martin Specializing in Medical Fitness Training with Seniors and special population such as Post Cardiac Rehab, Post Rehab and Post Pulmonary patients. Pregnant Women during and post, Functional Exercise. Amy Also Teaches several classes: Kinesis Training HIIT, Silver Sneakers Yoga, Indoor Cycling
Michael
BS-Kinesiology from Penn State University, NASM Certified Personal Trainer, NASM Certified Nutrition Coach, USA Olympic Weightlifting Coach Lv.1, Functional Movement Screener Lv. 1,
Medical Fitness with an emphasis on Balance, Corrective Exercise and injury prevention, Exercise programs for persons with disabilities (stroke, Parkinson's etc.)
Gabe
NSCA – Certified Personal Trainer, TRX- Suspension Training
ACTION-CPT, CPR-AED
Over 13 years' experience with Cleveland Clinic Martin Specializing in: Pain Management, Functional Training, Flexibility and Endurance Training.
Chris (Department Manager)
BS-Kinesiology from University of New Brunswick (Canada) ACSM – Certified Exercise Physiologist, METI – Medical Exercise Specialist, Fascial Movement Taping LV 1&2
NETA-CPT, TBMM-CES, CPR-AED
Over 15-year experience working with Post Rehabilitation. Chris has worked with many different conditions like: ACL tears, Parkinson's Disease, Balance Fall Prevention, Rotator Cuff, Fibromyalgia, MS and more. My goal has been to help bridge that gap between Health care and Fitness to better serve the patients.