Summary
Summary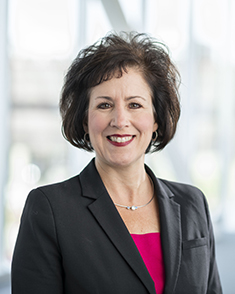 K. Kelly Hancock, DNP, RN, NE-BC, is executive chief nursing officer for Cleveland Clinic health system, and chief nursing officer for Cleveland Clinic main campus. A Cleveland Clinic veteran of more than 20 years, Hancock brings a wealth of knowledge and experience to her esteemed leadership position. She spearheads the organization's nearly 22,000 nursing team members that comprise the Stanley Shalom Zielony Institute for Nursing Excellence, overseeing nursing practice, development and education in inpatient, outpatient, rehabilitation and home care fields. She also oversees the daily nursing activity and long-term strategy for Cleveland Clinic's main campus location.
Throughout her tenure at Cleveland Clinic, Hancock has served in various director and manager positions. For seven years, she led nursing practice in the renowned Heart &Vascular Institute, named by U.S. News and World Report as the No. 1 heart program in the nation since 1995. Hancock is a board-certified nurse executive advanced and a member of several prominent national nursing and leadership organizations. Throughout her career, she has been recognized with numerous awards, including the 2011 Circle of Excellence Award from the American Association of Critical-Care Nurses. She is a two-time recipient of Cleveland Clinic's Abbie Porter Leadership Award, which highlights excellence in nursing leadership, and was honored with an endowment in her name by long-time Cleveland Clinic supporters Samuel and Maria Miller for the annual Cleveland Clinic Nursing Excellence Awards, in 2012.
Education
DNP, Chamberlain College of Nursing, 2015
MSN, Ursuline College Breen School of Nursing, Pepper Pike, Ohio, 2007
BSN, Ursuline College Breen School of Nursing, Pepper Pike, Ohio, 1993
Certifications
Board Certified Nurse Executive (NE-BC), American Nurses Credentialing Center
Basic Cardiac Life Support (BLS-CPR), American Heart Association
Advanced Cardiac Life Support (ACLS), American Heart Association
Contact Information
Cleveland Clinic
9500 Euclid Avenue / NA4
Cleveland, Ohio 44195
216.444.2404
hancock@ccf.org
Leadership
Leadership
On a daily basis, Hancock dedicates excellence, professionalism, and compassion to the nursing profession. She is a well-respected leader throughout Cleveland Clinic health system, actively participating on and leading numerous councils and committees. Her involvement includes the intensive care affinity and nursing practice councils, both of which she has co-chaired, the health system leadership council and physician nurse collaboration committee. She is also the executive team liaison for financial issues and leads a heart failure core measures initiative. Previously, Hancock served as interim executive chief nursing officer, senior nursing director of critical care and senior nursing director and nursing director of the renowned Cleveland Clinic Heart and Vascular Institute.
Clinical Practice & Teaching
Clinical Practice & Teaching
Clinical Practice
Hancock's clinical experience lies within the area of cardiology, specifically cardiothoracic step-down and critical care.
Teaching
Hancock has served as a preceptor to both master's and bachelor's prepared nursing students. As a preceptor, students observe all aspects of Hancock's role as an executive nurse leader.
Research & Publications
Research & Publications
An experienced presenter, Hancock has lectured on varying topics throughout her career, including the effects of assistant nurse managers around the clock, value-based purchasing and the role of the chief nursing officer, and managing conflicts constructively. When working in the Heart and Vascular Institute, she strongly promoted nursing research and investigation of clinical problems by all registered nurses, creating an expectation that each nursing unit be involved in some phase of the research process annually, whether working as co-investigator with a doctoral-prepared nurse researcher or as a principal investigator.
Professional Involvement
Professional Involvement
Executive Leadership Committee Member, American Heart Association – Go Red for Women
Chair, Service Delivery Committee, American Red Cross Board
Co-Chair, Press Ganey Chief Nursing Officer Advisory Council
Member, Hill-Rom Chief Nurse Executive Advisory Board
Past-Board Member, American Red Cross Board
Member, Holy Name Advisory Board
Past-Member, American Association of Critical-Care Nurses, American Association of Heart Failure Nurses, Association of Nurse Executives
Member, Sigma Theta Tau International Society of Nursing
United Way Generation Next Member for Greater Cleveland
Honors & Awards
Honors & Awards
Distinguished Nursing Alumnae Award, Ursuline College, 2013
Stanley Shalom Endowed Chair for Nursing Advancement, 2012
Annual Cleveland Clinic Kelly Hancock Nursing Excellence Awards Endowment, 2012
Circle of Excellence Award, American Association of Critical-Care Nurses, 2012
Nurse of the Year – Maria and Sam Miller Professional Excellence Award, Cleveland Clinic, 2010
Abbie Porter Leadership Nursing Excellence Award, Cleveland Clinic, 2009 and 2002
Marilyn Tetonis Nursing Unit Nursing Excellence Award, Cleveland Clinic, 2001
Bruce Hubbard Stewart Fellow Award, Cleveland Clinic, 2000