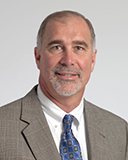 Bradford Borden is Cleveland Clinic's Vice Chief of Staff. In this role, he serves as the Chair of the Office of Professional Staff Affairs (OPSA), working closely with the Executive Director of OPSA. Dr. Borden is an ad hoc member of the Board of Governors, as well as a member of the Professional Conduct Committee.
Previously, Dr. Borden was Cleveland Clinic's Associate Chief of Staff. Prior to joining Cleveland Clinic, he was the CEO of Emergency Care Specialists, Inc., and President of Marymount Hospital Medical Staff.
Dr. Borden graduated from the University of Cincinnati College of Medicine and completed his emergency medicine residency at Mount Sinai Medical Center in Cleveland, where he was Chief Resident.
Dr. Borden is a member of the American College of Emergency Physicians. He is a member of the Clinical Enterprise Emergency Management Committee, the Enterprise Risk Management Steering Committee, the Risk Steering Committee, the Professional Conduct Committee and the Serious Safety Event Task Force. He serves on the Boards of the Northern Ohio Trauma System and the Cleveland Clinic Board of Governors. Dr. Borden is also a member of the Physician Leadership Council of the Ohio Hospital Association.