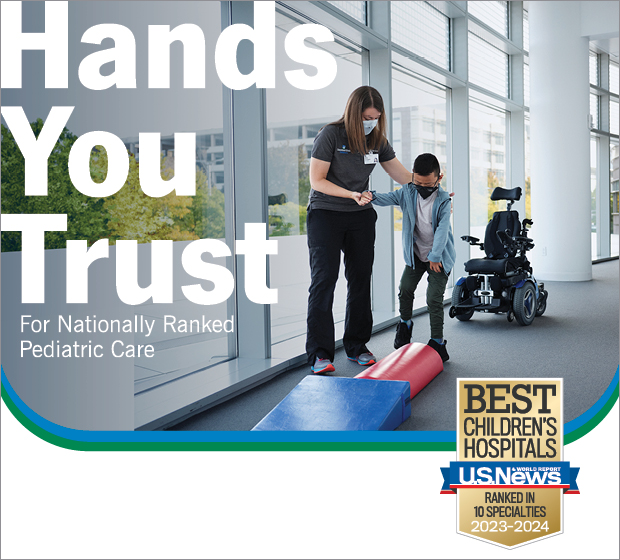 Cleveland Clinic Children's has received a number of awards and recognition that support our mission to provide compassionate healthcare of the highest quality in a setting of education and research.
Best Children's Hospitals
Cleveland Clinic Children's has ranked among the nation's best children's hospitals by U.S. News & World Report (2021-22).
The annual report is collected as a tool through which patients can compare hospitals. Among factors considered, the rankings reflect a hospital's reputation among physician peers, patient safety, and a hospital's ability to keep patients alive given the severity of illness.
Patients can feel confident comparing hospitals, as the rankings are based on data provided by the American Hospital Association and the rankings are produced by a leading research company.
Magnet Status

Cleveland Clinic Children's, including our Hospital for Rehabilitation, has been distinguished as a Magnet Status hospital which is the highest national award for excellence in nursing.
The American Nurses Credentialing Center, a subsidiary of the American Nurses Association established Magnet recognition in 1994. Since then, research has shown that patient care outcomes are better at Magnet hospitals where there is an environment that empowers nurses, values their contributions and supports nursing leadership.
Magnet status is awarded for a four-year period, after which hospitals must apply again for the recognition.
Commission on Accreditation of Rehabilitation Facilities

Cleveland Clinic Children's Hospital for Rehabilitation received the accreditation by CARF for meeting strict requirements of staff knowledge, operational procedures, safety and effectiveness.
CARF develops the standards for multidisciplinary clinics in an effort to promote quality, value, and optimal outcomes of services that improve quality of life for each patient. Organizations that receive the accreditation have demonstrated their commitment to the continuous improvement of their programs and services with a focus on the needs and outcomes of the patients they serve.
Joint Commission
Cleveland Clinic Children's maintains best practice standards that focus on improving the quality and safety of care provided by health care organizations.
The Joint Commission defines national patient safety goals designed to ensure accredited hospitals are affording patients the best possible care. Medication safety measure, following hand hygiene guidelines and preventing patient falls are examples of these goals.
NACHRI Member

Cleveland Clinic Children's is a member of the National Association of Children's Hospitals and Related Institutions. NACHRI is the voice for health systems devoted to the well-being of America's 70 million children and their families. We work with them to ensure children's access to health care and the continuing ability of children's hospitals to provide services needed by children.
Gold Level ELSO Award for Excellence in Life Support

The ELSO Excellence in Life Support Award recognizes ECLS programs worldwide that distinguish themselves by having processes, procedures and systems in place that promote excellence and exceptional care in extracorporeal membrane oxygenation.
Get With The Guidelines - Resuscitation Silver Plus Pediatric Patient Population Award

We're proud to be recognized by the American Heart Association and American Stroke Association for our active involvement in Get With The Guidelines®-Resuscitation, a program designed to help hospitals make sure patients get the benefits of the latest scientific guidelines-based treatment.