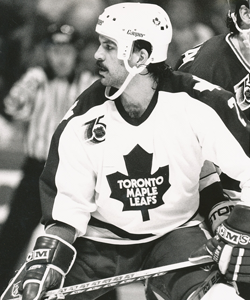 Life's Work:
Professional hockey player
Services Used:
Executive Health
Dermatology
Cardiology
Why Cleveland Clinic Canada?
It saved my life. I can't tell you how much it's worth it to come to Cleveland Clinic Canada. The clinic has woken me up to the fact that I need to be better. And if I can be physically better, that's going to help me mentally. Coming here, I was more interested in the kind of things that you hear around the age fifty mark, that you should be aware of and have checked. I also wanted to address my knee and ankle issues, and find out where I might go in the future in regards to pain and pain management. After my appointment I received a call to notify me of some inconsistencies in my test results. They thought I might need a bypass, not angioplasty or stents, I needed an actual bypass. It was serious- I could have dropped dead riding my bike. If I'd had a heart attack, it would have been fatal.
What is the one thing that you feel people need to know about Cleveland Clinic Canada?
When you come here you get answers. The staff makes you feel comfortable. It was very relaxing. They make you open up about some stuff you wouldn't even tell your doctor you had 20 years ago. I thank Cleveland Clinic Canada for that because it will allow me to enjoy not only another 30 to 50 years with my wife but also to watch my grandkids grow up so I can spoil them more than I spoiled their parents.