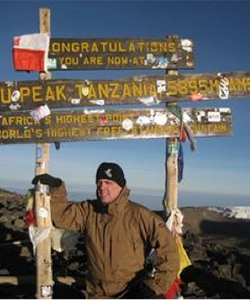 Life's Work:
Sales and leadership
Services Used:
Favorite Quote:
"If you think you can do a thing or think you can't do a thing, you're right."
- Henry Ford
Why is good health important to you?
Family is at the core of all I do. Personal health defines my ability to support them and be an example to my children and soon to be grandchildren (hopefully).
Why Cleveland Clinic Canada?
Quality care you can trust. I had a concerning diagnosis between my regular visits to Cleveland Clinic Canada in 2012 and the comfort in the speedy second opinion received from specialists at the clinic gave me confidence in the treatment and procedure I was about to receive. The follow up at my next visit was reaffirming, and gave me closure – and that kind of peace of mind is priceless. Cleveland Clinic Canada has added to my health and wellness and I would recommend the clinic to anyone interested in better health and wellness.
From the time you enter Cleveland Clinic Canada for your day of care you get the feeling at every touch point that you are cared for and everyone is focused on you. Given the scope of the operation Cleveland Clinic runs, it is quite an accomplishment to keep such a personal total care attitude at the core of their culture.
What are some of your hobbies?
I coach a competitive travel team of 17/18 year old representative hockey players. I also enjoy hiking with my wife, skating and working out.
How do you stay active?
I stay active by walking. It's a great way to manage stress.
What is your best tip to manage stress?
I find my escape through reading.
What is your favourite destination?
I love Europe, especially Italy, for the culture, people, food, and scenery. I also have a love of Africa after I climbed Kilimanjaro in 2011 and forged a connection to the Tanzanian people.