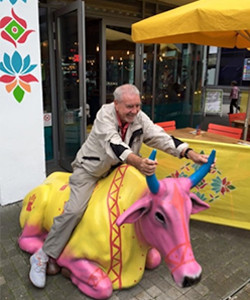 Life's Work:
Economic geologist
Services Used:
Executive Health
Respirology
Favorite Quote:
"It's all part of life's rich pageantry."
Why is good health important to you?
I want to enjoy my retirement.
Why Cleveland Clinic Canada?
Cleveland Clinic Canada was truly responsive to my healthcare needs. I was having difficulty breathing and my family doctor sent me for a multitude of tests. No explanation was found and he referred me to a respirologist. This appointment was for seven months away and my instincts told me I shouldn't wait. I called Cleveland Clinic Canada and was able to arrange for an Executive Health assessment.
On arrival at the clinic I started the usual routine of tests, urine, blood etc. My second stop was with the nurse. When she completed her battery of tests, she commented, with concern, that my heart rate seemed very low. She arranged for me to see the respirologist immediately. He confirmed my low heart rate and requested an immediate EKG scan. With the facilities at the clinic, this was carried out immediately. The results concerned him and he faxed a copy to a consulting cardiologist colleague. They thought I likely needed an immediate pacemaker implant and recommended that I check in to the Toronto Heart Centre the following day.
Feeling rather concerned, but relieved, at this definite diagnosis, I walked home to share the details with my wife. On arrival, the clinic called to say that after reviewing the EKG results they thought I should proceed immediately to emergency admittance at St. Michael's Hospital. On arrival at St. Michael's, the triage nurse had already received background paper work from the clinic and I was immediately admitted and prepped for an implant procedure. In the hours prior to the operation my heart rate dropped to 20 and the nurses commented how fortunate I was to have been diagnosed, since this was a life threatening scenario.
The implant procedure was completed and over the following 8 months I have had two successful checkups. In summary, from my perspective, the nurse at Cleveland Clinic Canada made the critical observation and ensured the rapid follow up that probably saved my life. My family doctor's tests failed to detect this obvious diagnosis and I could have died waiting for the follow up appointment.
What is the one thing that you feel people need to know about Cleveland Clinic Canada?
It saved my life! Plus the care is efficient and thorough. The clinic has pleasant surroundings and extremely professional and friendly staff.
How do you stay active?
I stay active by walking. It's a great way to manage stress.