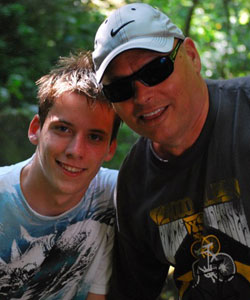 Life's Work:
President and CEO at Stephenson's Rental Services
Services Used:
Favorite quote:
"Ask not what your country can do for you, ask what you can do for your country." - John F. Kennedy
Why is good health important to you?
It's about overall quality of life, being around for a very long time but also enjoying an active lifestyle as you move into your senior years. The impact of good or bad habits in your younger years can, and I believe will, have an impact later on in life.
Why Cleveland Clinic Canada?
A couple of years ago, I made the decision to switch from another health provider to Cleveland Clinic Canada and I must say that I never looked back. The level of service and the passion that the entire team displays is truly best in class. From the moment you walk in the clinic you feel welcome and from then on the attention to detail is exceptional. From the level of professionalism of each expert, to the easy pace at which you discuss each of the areas of your health, to the quality of food that is made available, it's all first class.
What makes our Executive Health program stand out to you?
What stands out the most to me is the persistence that the staff displayed in getting to the bottom of a suspicious health issue in record time. Once a potential problem was identified, I was quickly moved to the proper experts to confirm the original diagnosis. It turned out that it was a significant health risk and I can look back today and say that they probably saved my life. The passion and efficiency that was employed in finding the right solution was remarkable. I cannot thank Dr. Campbell enough for proving the guidance in this process.
In what ways do you think your experience at the clinic has helped to improve your health?
Having experts that don't just focus on one aspect of your overall health, but the whole picture, is priceless. It's not just about eating the right food or exercising on an ongoing basis, it's also about making sure that you have the right mental approach to your overall well-being. Uncovering the area or areas that you should be focusing on to complete the puzzle is what Cleveland Clinic is all about. This holistic approach provides me with the motivation to make lasting steps in having long term good health.
What are some of your hobbies?
I really enjoy golf, skiing, travelling, reading and I would probably say that my passion is my work. I really enjoy being part of a team that is dedicated to solving problems and creating wealth for shareholders but also for society in general. I would say that work is almost a hobby.
What is your favourite place to travel to or a place you wish to go?
I enjoy travelling across Europe as I believe it is very inspiring and educating but I would like spend more time exploring Asia again.
How do you stay active?
I have a personal trainer twice a week and try to bike as much as possible. I also play golf any chance I have.