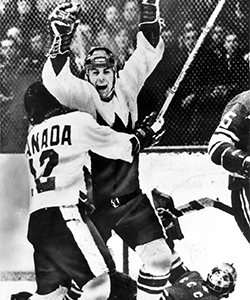 Life's Work:
Former NHL Hockey Player; Scored winning goal for Team Canada in the '72 Summit Series
Services Used:
Executive Health
Sports Medicine
Why is good health important to you?
Being in good health means I can continue to spend quality time with my family.
What is your health philosophy?
As an athlete, I have always had to care about my health because that was the key to performing well. My competitive nature makes me want to stay ahead of the game and be informed about my health. My personal philosophy is to identify something early enough so you can take care of it.
Why Cleveland Clinic Canada?
As we age, it becomes even more important to take control of our health. I've been married to my lovely wife for over 50 years and I believe it is our responsibility to each other and our family to look after our health. To do that properly, we wanted to come to the experts at Cleveland Clinic Canada. They are specialists in keeping you healthy.
The Executive Health program give s me an annual report card on my health and a lot of smart suggestions on what I can do to improve my health in the coming months and years. They do a fantastic job of complimenting the great care I receive during the year from my family doctor and other providers.
What is the one thing that you feel people need to know about Cleveland Clinic Canada?
Their clinical care is outstanding but what really sets them apart is that they truly care about the well-being of their patients.