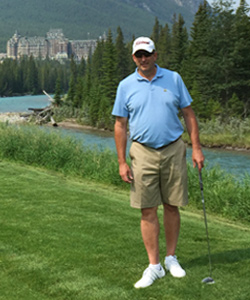 Life's Work:
Senior Executive Vice-President, Technology and Operations at CIBC
Services Used:
Executive Health
Sports Medicine
Specialists
Why is good health important to you?
At my age, I am focused on longevity. I have a demanding job so I have to be in good health and I want to live a good quality life and remain in good health. It's a priority.
How do you stay active?
Golf and working out. I work out five times a week. No matter what, I always make the time for it.
Why Cleveland Clinic Canada?
I just can't say enough good things about Cleveland Clinic Canada. I am so happy to be a patient there.
What makes our Executive Health program stand out to you?
The program is outstanding. The staff is not pushy like some of the other facilities I've been to in the past. Everyone is extremely helpful. The day moves at a great pace and the care is very thorough. You have everyone's full attention and feel like they really care about you and your health. You are much more than just a number to them. The specialists on staff are so convenient. I've seen the dermatologist and the urologist and both appointments were booked quickly and efficiently. There is an excellent follow-through for all of the appointments I've had at the clinic. Nothing is overlooked. Another perk is the access to the mother ship, Cleveland Clinic, should any complications arise. I love the peace of mind knowing that Cleveland Clinic Canada is part of such a major player in the healthcare field.
What is the one thing that you feel people need to know about Cleveland Clinic Canada?
That they offer such a wide variety of services on-site. I had a health concern one day so I went to Cleveland Clinic Canada for testing and they discovered an aneurism. If I had played contact sports I would have run my heart rate up and that would have been very dangerous for me. It could have ended very badly. Because I was a patient at the clinic I just made an appointment and walked right over to do the testing. Once they discovered a problem they sent me to St. Mikes. There is a real sense of urgency at Cleveland Clinic Canada. Also, I've had a number of injuries in the past and have really benefited from the same day appointments with the sports health team.
In what ways do you think your experience at the clinic has helped to improve your health?
It's improved my health in so many ways. I am certainly more conscientious of the nutritional choices I make thanks to the dietitians. I also find that the exercise physiology team is helpful with their exercise recommendations. They tailor their advice to someone my age and make sure that it's relevant. Knowing I will be back each year also keeps me motivated. I want to make sure my tests are the same or better than the previous year. It becomes a personal competition. I don't want to let myself down, so it keeps me honest and on track throughout the year.
What is your favourite place to travel?
My wife and I love San Francisco. It is our favourite place in the world. We like to stay in Half Moon Bay and explore the beautiful coast from there.
What is your favourite food?
I am a big fan of ice cream. Everything in moderation.