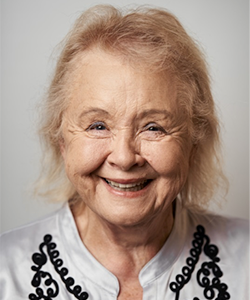 Life's Work:
Poetry
Services Used:
Executive Health
Sports Medicine
Favourite quote:
"Love is not love
Which alters when it alteration finds
Or bends with the remover to remove."
- Sonnet 116
Why is good health important to you?
Good health is necessary to enjoy life. Many of my friends worked hard to provide a good life for themselves but now don't have the health to actually enjoy it. Ayn Rand has a great philosophy. If you are not selfish you can't do anything for anyone else. It is good to look after oneself and then one can look after all the others in family and friends who need looking after.
Why Cleveland Clinic Canada?
The Executive Health Program is totally 'me' time. I am focused on my heath and present for that day. I feel that everything about my health is examined on that one day and that I am being looked after. It helped me to improve my health in every possible way. Nothing was overlooked.
What are some of your hobbies?
I enjoy going to the theatre and walking my dogs.
What is your favourite place to travel?
Anywhere on the sea; Gower, South Wales in particular. I would love to go to Nepal again and watch the sun rise over Everest.
How do you stay active?
I never stop moving.