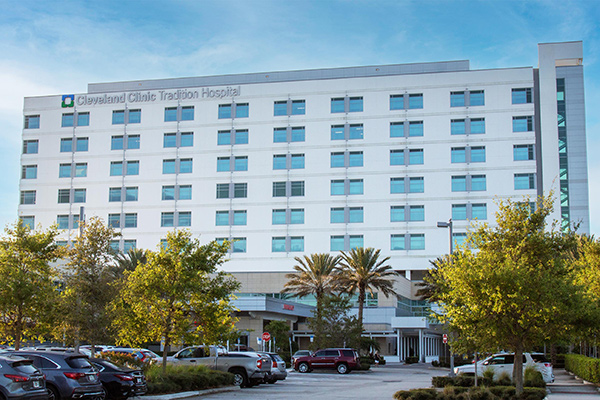 Tradition Hospital is a state-of-the-art acute care facility that opened in December 2013. The hospital features 177 private rooms to ensure the comfort and privacy of our patients and their families.
On October 30, 2017, Tradition Hospital added an additional 90 new patient rooms, to help improve the flow of patients out of the emergency department and enhance the admission process, whil also renovating and expanding our intesive and progressive care units. Traditional Hospital also now provides maternity services and our neonatal care (NICU) for our expecting families.
Conveniently located nearby are our medical office buildings, Tradition HealthPark One and Two, which feature our our Martin Health Physician Group practices, pharmacy, wound care center and an outpatient surgery center.
Awards & Recognition
Our success at Martin Health is determined by our outcomes, patient satisfaction and how we compare to local and national benchmarks. Because of our commitment to high quality patient care, we also receive annual recognitions and awards that reflect these efforts. These recognitions are a source of humility and pride, but never distract us from our relentless pursuit of providing exceptional health care, hope and compassion to every patient, every time.
The Joint Commission Accreditation: Martin Health ranks among the top 10 percent of hospitals nationwide, as scored by The Joint Commission, one of the most respected health care accreditations in the U.S. Every three years, The Joint Commission reviews numerous aspects of care, from governance and bylaws to staff competency. Martin Health was awarded with accreditation during The Joint Commission's most recent review in 2016.
The Joint Commission Certification - Primary Stroke Center: Martin Health retains certification as a primary stroke center by The Joint Commission, a recognition of excellence in stroke care. The Joint Commission certifies hospitals that meet national standards and performance measurement expectations. The commission's certification program was developed along with the American Stroke Association. Certification was awarded in 2007, 2009, 2012, 2014 and 2016.
The Joint Commission Center of Excellence Accreditation - Orthopaedic Specialty Center: The Orthopaedic Specialty Center at Cleveland Clinic Martin Health earned The Joint Commission Center of Excellence Accreditation for total hip and knee joint replacement. The Orthopaedic Specialty Center was also the second hospital in Florida to achieve disease-specific certification in hip fracture care.
The Joint Commission Certification - Patient Blood Management: The Martin Health Patient Blood Management program is the first hospital system in the nation to receive certification from The Joint Commission and AABB. The certification, awarded for a two-year period, recognizes the health care system's evidence-based approach to optimizing care for patients who may need a blood transfusion. The certification is based on the AABB Standards for a Patient Blood Management Program to help hospitals establish a comprehensive patient blood management program.
Blue Distinction® Center for Bariatric Surgery: Martin North Hospital has been recognized as a Blue Distinction Center for Bariatric Surgery by the Blue Cross and Blue Shield Association. Blue Distinction Centers are nationally designated facilities with expertise in delivering improved patient safety and health outcomes.
Commission on Cancer: The Robert and Carol Weissman Cancer Center at Martin Health received a three-year accreditation with commendation from the Commission on Cancer of the American College of Surgeons for the time period of 2015 - 2017. Approval and highest rating were also earned in 2003, 2007, 2009 and 2012.
National Accreditation for Breast Centers: The Robert and Carol Weissman Cancer Center received three-year accreditation from the National Accreditation Program for Breast Care Centers.