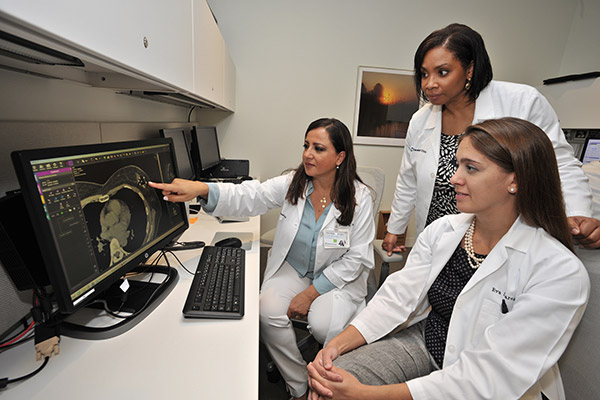 Cleveland Clinic Florida excels at caring for women with breast cancer. Our multidisciplinary model of medicine, adherence to evidenced-based practices, and pursuit of treatment innovations result in the highest quality care. Our patients deserve no less of us. That's why we are creating the Lozick Women's Center, dedicated to the screening, diagnosis and treatment of breast cancer.
Entirely funded through philanthropy, the Lozick Women's Center will provide a seamless, holistic experience for patients in a newly constructed 6,800-square-foot space on our Weston campus.
It is designed to foster care team collaboration and provide patients access to the most advanced technology in a relaxed and supportive environment. The center will be equal in caliber to our team of breast surgeons, medical oncologists, radiation oncologists, breast radiologists, plastic surgeons, breast pathologists, physician assistants, nurses, certified breast patient navigator and administrative staff, who are dedicated to the treatment of breast cancer. Because of their efforts, Cleveland Clinic Florida's Breast Center is a designated Breast Center of Excellence and an Accredited Cancer Program by the American College of Surgeons, as well as a Breast Imaging Center of Excellence by the American College of Radiology. This speaks volumes about the standard of care our patients receive. Demand for that care is growing, and the new women's center will be there to meet it.
Commitment to Our Future
Philanthropic support is critical to our mission at Cleveland Clinic. Every donation, big or small, improves some facet of the care we provide. We are grateful for the heartfelt support that makes it possible for us to deliver world-class care. Funds raised will have an enormous impact on our ability to provide many of the unique services and offerings that will be available through the Lozick Women's Center. From complementary therapies that encompass mind and body practices, to nutrition guidance and comprehensive psychotherapy services, the goal of the center is to provide holistic, patient-centered care.
Unparalleled Patient Support Services
The Lozick Women's Center will offer the following services to women undergoing treatment:
A patient resource and education center will give access to resource materials and serve as a vital resource for community efforts in prevention, early detection, education, outreach and support.
Complementary medicine services will address the "whole person" through a holistic approach to treatment, including massage therapy, Reiki, yoga, nutrition education, art therapy, and a wig boutique.
Comprehensive psychotherapy services to promote the deepest level of healing possible will include traditional psychotherapy and non-traditional therapies such as heart-centered meditation and guided imagery.
Genetic counseling will be available for cancer risk assessment and treatment planning, with the focus on targeting the right tumors with the right therapies.
Support programs to help patients navigate the changes and challenges associated with breast cancer will be offered. They will be guided by oncology social workers and nurses who are specialists in providing reliable information in an atmosphere of hope.
Become a Founding Member of the Lozick Women's Center!
We have a unique opportunity for you to become a Founding Member of our Women's Circle with a gift of $5,000. Your partnership will help us to offer extraordinary care for our patients at the Lozick Women's Center.
As a Founding Member, you will be recognized on our donor wall in the Lozick Women's Center and receive special invitations to events throughout the year.
Women's Center Founding Members
Glenda Abbate
The Rhonda and Robert Bernstein Family Charitable Fund
Judith Creekmore
Peter Gaslow (Empire Office)
Edythe C. Harrison
Bill and Luann Hoffman
The Catherine L. and Edward A. Lozick Foundation
Charles (Chip) James and Ms. Elizabeth Matthews
Dorothea E. Perez
Carol & Harvey Raff
Rick Case Enterprises, Inc.
Sawgrass Ford/The Menten Family
Lila and Robert Tickman
Pauline M. Weinacht Philanthropic Fund