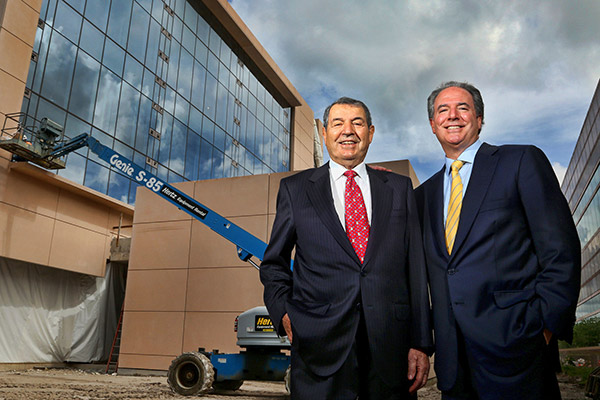 Leadership for the Campaign for Cleveland Clinic Florida
Cleveland Clinic Florida is proud to partner with a dedicated group of friends and community leaders who want to make an impact on healthcare and share our strategic vision.
Albert E. Maroone, Co-Chairman
Al Maroone is honored to be involved with Cleveland Clinic Florida where he is a distinguished Cleveland Clinic Fellow, a designation bestowed for his long-standing commitment to its growth and success. He and his wife, Kit, married since 1948, have three children and seven grandchildren. In addition to family, Al and Kit are committed to their community and have always believed in giving back. Generous philanthropists, their support has benefited hospitals, medical programs, churches, many charities and amateur athletics. Prior to retiring, Al was the founder of the Maroone Auto Group that began in Middleport, New York, and grew to include nine dealerships in South Florida. In 1997, the Maroone Auto Group was sold to Republic Industries (now AutoNation). Al believes that Cleveland Clinic Florida is perfectly positioned to provide world-class care for Floridians and the international community with a model of care that's both broad-based and leading edge.
Michael E. Maroone, Co-Chairman
Mike Maroone is President, Chief Operating Officer and Board Member of AutoNation. He joined AutoNation in 1997 as the President of the New Vehicle Group. Prior to this, he served in roles of increasing responsibility over two decades with the Maroone Auto Group and was named President in 1981. He is also owner and/or partner of numerous other businesses. Mike considers his father, Al, his best friend and mentor and serving as co-chairs of the Leadership Board a privilege. He believes deeply in access to comprehensive cancer care for patients and their families and in Cleveland Clinic Florida's holistic approach to treatment and advancing a cure. Mike has been recognized numerous times over the years as a business leader and philanthropist. He and his wife, Monica, have two children, Matt and Meredith, and share a deep commitment to the South Florida community that they've called home since 1977.
Executive Campaign Committee
Co-Chairmen
Albert E. Maroone and Michael E. Maroone
Rick and Rita Case
Angelica Guckes
Manny Kadre
Sean Lang
Tim LaRose
Senator George LeMieux
Alice Lucia Jackson
Robert Tomsich
Jordan Zimmerman
Staff Leadership
Wael Barsoum, MD, President
Jennifer S. McGreevy, Executive Director of Development
Britten King, Director of Development
Diane Schachtman, Director of Development