Nurses at Cleveland Clinic Florida are invested in their commitment to safe quality care and have contributed through shared governance in the achievement of numerous nursing and hospital-wide recognitions.
Who We Are
Cleveland Clinic Florida-Weston
The Cleveland Clinic Florida-Weston hospital was established in 2001 and has ambulatory clinic locations in Parkland, Coral Springs, Wellington, West Palm Beach and Palm Beach Gardens. Cleveland Clinic Florida is licensed for 206 inpatient beds and is home to more than 900 RNs and APRNs. It is a not-for-profit academic acute care medical center that provides multidisciplinary acute hospital and ambulatory care with a focus on collaboration, research, and education.
The hospital and clinics which are part of the Cleveland Clinic Enterprise, provides care in more than 35 specialties and has over 800,000 patient visits annually. Cleveland Clinic Florida-Weston's location in sunny tropical South Florida, serves as an ideal gateway for Latin America and the Caribbean.
Cleveland Clinic Florida-Weston nurses take pride in servicing not only their hospital and clinic based patients, but also their local and international communities. The diversity of the nurses at Cleveland Clinic Florida-Weston are a reflection of the communities they serve and positions them to provide comprehensive, culturally sensitive care to meet all their patient's diverse and individualized needs.
Cleveland Clinic Martin Health
Founded in 1939 as Martin County Hospital, a portion of the original structure is included in the current facility which features 244 beds. Cleveland Clinic Martin North Hospital treats patients with major illnesses or injuries and life-threatening symptoms; the emergency department is staffed 24 hours a day with emergency medicine physicians, physician assistants and emergency nurses.
The campus is home to the Frances Langford Heart Center, the Back and Spine Center, the Robert and Carol Weissman Cancer Center, the Minimally Invasive Surgery Center and the Martin Health System Center for Bariatric and Metabolic Surgery.
Cleveland Clinic Indian River Hospital
Founded by Garnett Radin, RN, in 1932, Cleveland Clinic Indian River Hospital is a 332-bed, not for profit hospital offering comprehensive medical services to the Treasure Coast community. The Welsh Heart Center, Scully-Welsh Cancer Center and Scully Endoscopy Center offer full-service programs and a multidisciplinary approach.
Healthcare professionals represent specialties including orthopedic services, minimally invasive vascular surgery, neurosurgery, stroke services, robotic surgery, a state-of-the-art wound healing center, bariatric surgery and the only maternity wing in the community. The hospital features all private rooms and is the largest private-sector employer in Indian River County.
Professional Practice Model
The Cleveland Clinic Florida nurses use the guiding principle of Patients First and to the highest quality compassionate care through the use of the Zielony Nursing Institute's Professional Practice Model. The model's components of quality and safety, relationship-based culture, professional practice and development, and research, evidence based practice and innovation serve as the foundational tenets for nursing care rendered throughout the organization.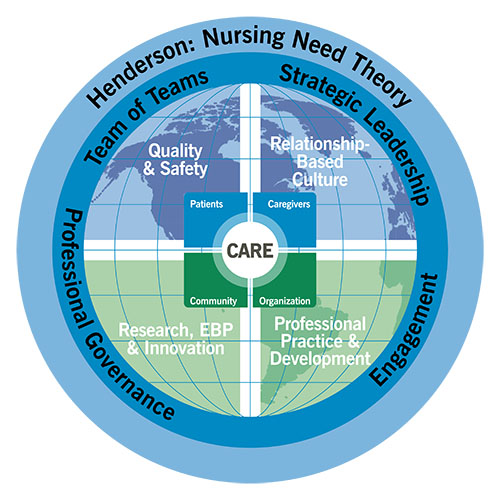 Shared Governance at Cleveland Clinic Florida