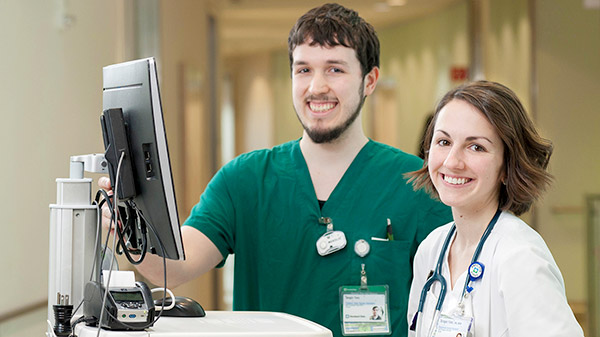 Cleveland Clinic Florida is home to more than 700 dedicated nurses providing care in both inpatient and ambulatory settings. Our nurses have access to a variety of educational opportunities, including:
Comprehensive nursing onboarding and orientation process
American Heart Association courses
Critical Care and Progressive Care programs
Perioperative training courses
Oncology courses
Arrhythmia interpretation courses
Disaster management
Informatics and computer skills training
Nursing grand rounds
Opportunities to earn CEU's for most offerings
In addition, our Professional Nurse Career Ladder and substantial tuition reimbursement programs offer nurses the opportunity to grow both professionally and personally.
Quality, Recognition & Accreditation
Cleveland Clinic Florida has been designated by the American Nurses Credentialing Center's (ANCC) as a health facility on the Pathway to Excellence® designation. This recognition is earned by healthcare organizations that create work environments where nurses can excel in their practice. The designation substantiates the professional satisfaction of nurses and identifies best places to work.
Career Opportunities
Looking for an opportunity in the medical, professional or administrative field? We can provide a career path that will help you grow.
Please visit our Careers site for a current list of open positions at Cleveland Clinic Florida locations. Thank you for your interest in Cleveland Clinic.
About Us
Cleveland Clinic Florida is a not-for-profit, multi-specialty, academic medical center that integrates clinical and hospital care with research and education. The medical campus is fully integrated and includes diagnostic centers, outpatient surgery and a state-of-the-art 166 bed hospital offering the following services:
Telemetry Unit
Acute Care Medical Surgical Unit
Intermediate Care Unit (Step-down)
ICU
Cath Lab
Endoscopy
ACU/PACU
Emergency Department
Outpatient Surgery Center
Ambulatory Care Services