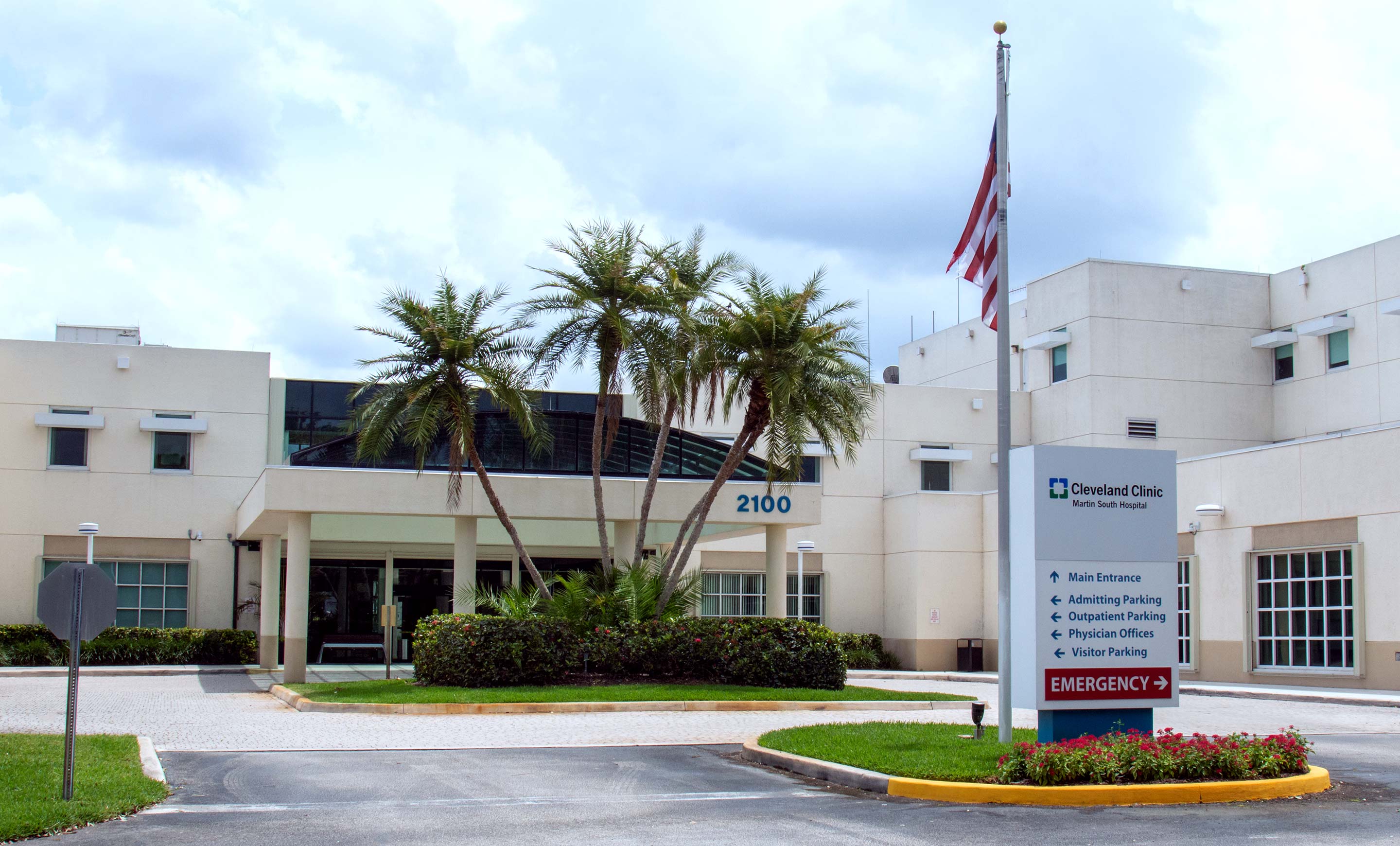 Martin Hospital South features 100 beds and treats patients with major illnesses, injuries and life-threatening symptoms. Many orthopaedic surgical cases are performed at Hospital South. An emergency department is staffed 24 hours a day with emergency medicine physicians, physician assistants and emergency nurses.
Orthopaedic Specialty Center
A coordinated program for people with treatable joint disorders brings together surgery, rehabilitation and fitness for hip and knee replacements. A comprehensive program helps to restore independence. The Orthopaedic Specialty Center at Martin Health in 2012 and 2010 earned the Gold Seal of Approval from The Joint Commission for disease-specific care certification for joint replacement of the hip and knee.
Hospital South features MAKOplasty. This innovative technology utilizes an interactive robotic arm, which provides incredible precision and improved results for partial knee resurfacing. The advanced surgical tool provides a minimally invasive alternative to total knee arthroplasty or manual partial knee resurfacing for patients with early to mid-stage osteoarthritis of the knee.
Weight-Loss Surgery
The Martin Health System Center for Bariatric and Metabolic Surgery is a multidisciplinary team of surgeons, physicians, dietitians and other health care professionals dedicated to the comprehensive treatment of morbid obesity.
Physician Offices
Martin Health System features primary care and pediatric care physicians, as well as specialists in endocrinology in the Patricia Lichtenberger Medical Plaza located next to Hospital South at 2150 SE Salerno Rd.
Diagnostic Imaging Services
Hospital South provides a full array of diagnostic imaging services that include digital mammography, ultrasound, CT multislice scan, general radiography and nuclear medicine.
Laboratory Services
The Martin Health System laboratory at Hospital South is open 365 days a year to provide prompt results on specimens and blood samples. Because tests are processed locally, 24 hours a day, we provide timely and reliable results to physicians within 24 to 48 hours.
The laboratory has some of the most advanced equipment available, including the state-of-the-art Bayer Track system, which integrates computerized and advanced robotics technology to route and manage patient samples to complete tests in half the normal time. This system can perform more than 100 different types of tests.
Rehabilitation Services
Physical and occupational therapy for adults are available at Hospital South. Services include: osteoarthritis rehabilitation, balance training, lymphedema massage, Spine Six chair for back problems, aquatic rehabilitation, Triton spinal decompression and oncology rehabilitation.
Health and Fitness Center
This location features medical fitness with specially trained staff available to assist members. The fitness centers offer various workout classes, including aerobics, pilates and more. Health and fitness staff are available to develop personal exercise programs for members.