Overview
Overview
Vascular neurology is the area of medicine in which selected neurological disorders involving the central nervous system due to ischemia or hemorrhage are assessed, monitored, treated and prevented using a combination of clinical evaluation, imaging, interventional techniques, and medication.
Cerebrovascular diseases represent the most frequent cause of adult disability and the third leading cause of deaths in the United States. With the population growing older, it projects to be a pervasive problem for many years to come.
Great strides have been made in recent years in the evaluation and treatment of stroke patients. Research into the pathophysiology of ischemic neuronal damage, the evolution of new brain imaging modalities, the development of interventional neuroradiological techniques, and the currently ongoing search for effective neuroprotective agents to complement thrombolytic therapy are some important endeavors in this rapidly advancing field of medicine.
Given the rapidly advancing practical knowledge in this field, a 3 year neurological residency program alone is not sufficient to become adept in all the nuances of stroke care. Hence the need for additional training in this field.
Cleveland Clinic Florida offers two 1-year Vascular Neurology fellowships designed to provide advanced training in the diagnosis, management, and research of patients with a wide spectrum of cerebrovascular disorders. This unique program will be based at 2 centers which complement each other by providing experience in the entire gamut of healthcare delivery to patients with stroke – a self-contained campus of a large private multispecialty group practice dedicated to outpatient and inpatient care as well as resident education and research, in addition to the resources of a large community hospital providing state-of-the-art stroke care.
Basic and advanced stroke services including diagnostic ultrasound (carotids and TCD), CT, CTA, MRI, MRA, MRV, SPECT, PET, cerebral angiography, interventional neuroradiology, neuro intensive care, and neurorehabilitation are offered. The fellows will have the opportunity to participate in ongoing clinical research and to develop their own research interests.
Program Director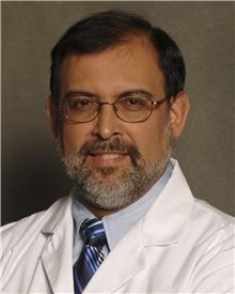 Efrain Salgado, MD
The Program
The Program
Goals and Objectives
At the end of the fellowship, the fellow will be very proficient in the evaluation and treatment of any patient with cerebrovascular disease. The fellow will be proficient in doing and interpreting ultrasound of the carotids and intracranial circulation and will also have a working knowledge regarding the conduction of clinical trials on stroke.
The fellow will satisfy the requirements for residency education in Vascular Neurology as published by the Accreditation Council for Graduate Medical Education. The fellow will be ready to embark on a lifelong career in providing the best care for patients with stroke or at risk of being stroke victims.
The Program
Month 1
Supervised performance in the evaluation and treatment of patients with cerebrovascular disease (outpatient, inpatient) and in the performance of transcranial Doppler and carotid duplex ultrasonography; didactic lectures in cerebrovascular anatomy, physiology, transcranial Doppler, NIHSS certification training; introduction to clinical research trials and identification of personal research projects.
Months 2-3
Graduated reduction in supervision in the clinical evaluation and treatment of patients with cerebrovascular disease; performing and interpreting transcranial Doppler examinations and carotid duplex ultrasonography; active involvement in the recruitment of patients for stroke trials and the development of research projects; teaching the neurology residents, nursing, and public on issues regarding cerebrovascular disease.
Months 4-12
Substantial autonomy in all of the above.
Research
The fellow will be required to plan and complete a research clinical project of his/her choice in cerebrovascular disease. Presentation at a national meeting and publication in a peer-reviewed journal will be financially supported.
Call Schedule
Twice per week and every third weekend.
Rotations
The fellow will rotate 6 months off campus in Holmes Regional Medical Center in Melbourne, Florida, under the supervision of Dr. Dandapani to complement their training in a large community hospital.
Evaluations
Evaluation of fellows with feedback to fellows once per month.
Evaluation of staff and program at least twice per year.
Applicants
Applicants must have completed a residency program in neurology accredited by the ACGME or the Royal College of Physicians and Surgeons (Canada).
Benefits
Benefits
Salary is at the PGY-5 level plus fringe benefits as detailed in the Graduate Physician Policy Manual and listed in the Resident/Fellow Benefits.
| | |
| --- | --- |
| Grad Level | Current Pay Rate |
| 1 | $52,474 |
| 2 | $54,341 |
| 3 | $56,265 |
| 4 | $58,284 |
| 5 | $60,673 |
| 6 | $63,145 |
| 7 | $65,840 |
| 8 | $67,073 |
Paid Time Away: Vacation, Maternity, & Paternity
Vacation: 3 weeks (15 working days) provided at the beginning of each academic year
Maternity: 6 weeks paid leave for natural childbirth or adoption; 8 weeks for cesarean section. Additional time off unpaid up to a maximum of 12 weeks under the Family Medical Leave Act.
Paternity: 2 weeks paid leave. Additional time off unpaid up to a maximum of 12 weeks under the Family Medical Leave Act.
Insurance
Healthcare: Cleveland Clinic Florida covers 50% of annual Healthcare Plans for Clinical Trainees and their families. Effective on the first day of training with no waiting period.
Dental and Vision Care: Cleveland Clinic Florida covers 100% of annual Dental and Vision Care Plans for Clinical Trainees.
Maternity Care: 100% coverage is provided through the health care plan that you select within the plan's guidelines.
Pharmaceuticals: As outlined by the Cleveland Clinic Florida Health Plan.
Malpractice: Paid by the Cleveland Clinic Educational Foundation/Cleveland Clinic Florida. Limited to activities within the training program.
Life Insurance: $25,000 term group policy.
Travel Privileges and Other Education Activities
Senior residents, chief residents, and fellows in ACGME and NON-ACGME programs that meet eligible criteria as outlined in the Graduate Physicians Manual may be approved to attend academic meetings for the purpose of presenting or engaging in leadership roles within national societies will be eligible up to 5 days per academic year with a maximum reimbursement of $1,200 per academic year.
Additional Benefits
Book Allowance: A $250 educational allowance per year is available to all clinical residents/fellows. Primary use is for textbooks.
On-call Meals: Breakfast, lunch, and dinner: Paid by Cleveland Clinic Florida when on in house night call.
Cell phones: Apple iPhone provided to all residents
Uniforms: Supplied by Cleveland Clinic Florida.
Staff
Staff
Program Director
Teaching Staff
Weston Facility
Melbourne Facility
Bhuvaneswari K. Dandapani, MD
William R. Sunter, Jr., MD
Douglas J. Mogle, MD
Timothy D. Carter, MD
Program Coordinator
Vanessa Santos, BHSA
2950 Cleveland Clinic Blvd.
Weston, Florida 33331
Phone: 954.659.5889
Fax: 954.659.6216
Email: santosv@ccf.org