Overview
Overview
Electrodiagnostic medicine is the medical subspecialty that applies neurophysiologic techniques to diagnose, evaluate and treat patients with impairments of the neurologic, neuromuscular and/or muscular systems.
Qualified practitioners require knowledge in anatomy, physiology, kinesiology, histology and pathology of the brain, spinal cord, autonomic nerves, cranial nerves, peripheral nerves, neuromuscular junction and muscles. They must know clinical features and treatment of disorders of the central, peripheral and autonomic nervous systems as well as those of neuromuscular junction and muscle. Practitioners also require special knowledge about electric signal processing, including waveform analysis, electronics and instrumentation, stimulation and recording equipment and statistics.
In an ACGME approved adult neurology residency, residents obtain 1-3 months rotation in Electrodiagnostic medicine. This is insufficient time to meet the standards for knowledge, skills and experience required for certification by the American Board of Electrodiagnostic Medicine. This is also insufficient time for those who aspire to focus their future practice toward neuromuscular neurology.
Additional period of training/preceptorship in electrodiagnostic medicine under the direct supervision of an experienced electrodiagnostic medicine consultant who is ABEM Board Diplomat is the best way to offer such training and experience.
Program Director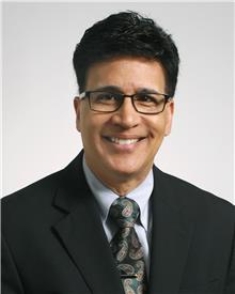 Nestor Galvez-Jimenez, MD
The Program
The Program
Goals and Objectives
At the end of this fellowship, the fellow will be very proficient in electrodiagnostic medical consultations and will satisfy the eligibility requirements of the American Board of Electrodiagnostic Medicine.
The Program
Month 1
Supervised performance of Nerve Conduction Tests, Electromyography, and Evoked Potential Studies. Didactic lectures in neuromuscular anatomy, physiology and instrumentation. Didactic lectures in clinical and electrodiagnostic examination correlation.
Months 2-3
Graduated reduction of supervision in conducting electrodiagnostic examination/consultation. Clinical case presentation to the department staff and residents.
Months 4-12
Substantial autonomy in conducting electrodiagnostic examinations under limited staff supervision. Research projects planned and completed during this remaining period.
Research
The fellow is required to plan and complete a clinical research project of his/her choice in electrodiagnostic medicine with results submitted for presentation at a national meeting and subsequent publication in a peer-reviewed journal.
Fellow Teaching
The fellow is required to actively participate in the teaching of neurology residents as the residents rotate in this discipline and by giving lectures and presentations.
Rotations
No off campus rotations are planned.
Evaluations
Evaluation of fellow with feedback to fellow at least twice per year.
Evaluation of staff and program at least twice per year.
Applicants
Applicants must have satisfactorily completed a Neurology Residency Training Program accredited by the Accreditation Council for Graduate Medical Education (ACGME).
Benefits
Benefits
Salary is at the PGY-5 level plus fringe benefits as detailed in the Graduate Physician Policy Manual and listed in the Resident/Fellow Benefits.
| | |
| --- | --- |
| Grad Level | Current Pay Rate |
| 1 | $52,474 |
| 2 | $54,341 |
| 3 | $56,265 |
| 4 | $58,284 |
| 5 | $60,673 |
| 6 | >$63,145 |
| 7 | $65,840 |
| 8 | $67,073 |
Paid Time Away: Vacation, Maternity, & Paternity
Vacation: 3 weeks (15 working days) provided at the beginning of each academic year
Maternity: 6 weeks paid leave for natural childbirth or adoption; 8 weeks for cesarean section. Additional time off unpaid up to a maximum of 12 weeks under the Family Medical Leave Act.
Paternity: 2 weeks paid leave. Additional time off unpaid up to a maximum of 12 weeks under the Family Medical Leave Act.
Insurance
Healthcare: Cleveland Clinic Florida covers 50% of annual Healthcare Plans for Clinical Trainees and their families. Effective on the first day of training with no waiting period.
Dental and Vision Care: Cleveland Clinic Florida covers 100% of annual Dental and Vision Care Plans for Clinical Trainees.
Maternity Care: 100% coverage is provided through the health care plan that you select within the plan's guidelines.
Pharmaceuticals: As outlined by the Cleveland Clinic Florida Health Plan.
Malpractice: Paid by the Cleveland Clinic Educational Foundation/Cleveland Clinic Florida. Limited to activities within the training program.
Life Insurance: $25,000 term group policy.
Travel Privileges and Other Education Activities
Senior residents, chief residents, and fellows in ACGME and NON-ACGME programs that meet eligible criteria as outlined in the Graduate Physicians Manual may be approved to attend academic meetings for the purpose of presenting or engaging in leadership roles within national societies will be eligible up to 5 days per academic year with a maximum reimbursement of $1,200 per academic year.
Additional Benefits
Book Allowance: A $250 educational allowance per year is available to all clinical residents/fellows. Primary use is for textbooks.
On-call Meals: Breakfast, lunch, and dinner: Paid by Cleveland Clinic Florida when on in house night call.
Cell phones: Apple iPhone provided to all residents
Uniforms: Supplied by Cleveland Clinic Florida.
Staff
Staff
Program Director
Teaching Staff
Program Coordinator
Vanessa Santos, BHSA
2950 Cleveland Clinic Blvd.
Weston, Florida 33331
Phone: 954.659.5889
Fax: 954.659.6216
Email: santosv@ccf.org