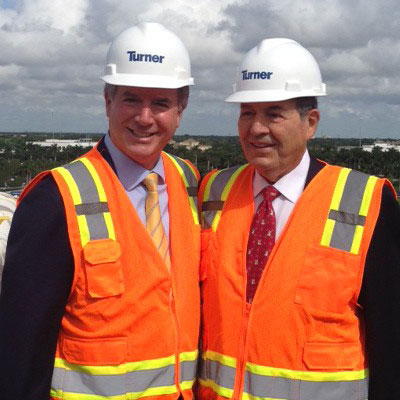 Maroone's Philanthropic Support of Cleveland Clinic Florida Tops $10 Million
Cleveland Clinic Florida announced that Al and Mike Maroone, co-chairs of The Campaign for Cleveland Clinic Florida, and their families have made a gift to the campaign in support of its Cancer Center. To recognize the family's years of philanthropic support, topping more than $10 million, Cleveland Clinic Florida's new cancer center, currently under construction in Weston, will be named the Maroone Cancer Center.
"We are so grateful to the Maroone family for their generous support of Cleveland Clinic Florida," says Dr. Wael Barsoum, President of Cleveland Clinic Florida. "Their gift will allow us to develop a robust set of programs to support patients and their caregivers, as we bring the cancer resources of the world-renowned Cleveland Clinic in Ohio to our community and to the patients who travel here from around the world."
Cleveland Clinic Florida broke ground last year on the Egil and Pauline Braathen Center, a five-story story, 143,000 square-foot building that will house the Maroone Cancer Center and the expanded Pauline Braathen Neurological Center.
"Cleveland Clinic stands for world class healthcare in a community that is rapidly growing," says Al Maroone, the retired founder of Maroone Auto Group, which was sold in 1997 to Republic Industries (now AutoNation). "Our family is proud of our long-standing affiliation with this fine institution."
The Maroone family's generous gift will advance Cleveland Clinic Florida's campaign, supporting expansion and enhancement of facilities and programs that will provide comprehensive cancer services to patients and families in one location at the Weston campus. The Maroone Cancer Center will include:
Leading-edge diagnostic and radiation treatments, such as advance stereotactic radiotherapy with sub millimeter accuracy and real time tumor tracking; image guided radiotherapy, a dedicated CT simulator, 4 dimension treatment planning and high dose radiotherapy;
A state-of-the-art chemotherapy infusion suite designed to include the family in a healing environment;
Complementary medicine – massotherapy, reiki, nutrition education, and art therapy – to address the "whole person" through a holistic approach to treatment;
And a patient resource and education center that will serve as a vital resource for community efforts in prevention, early detection, education, outreach and support.
"Sadly, cancer touches nearly everyone at some point whether directly or indirectly," says Mike Maroone, President, Chief Operating Officer and board member of AutoNation. "We recognize the tremendous need in our community and have great respect for Cleveland Clinic's holistic approach to care for patients and their families. Cleveland Clinic Florida is posed to play a pivotal role in the war on cancer."