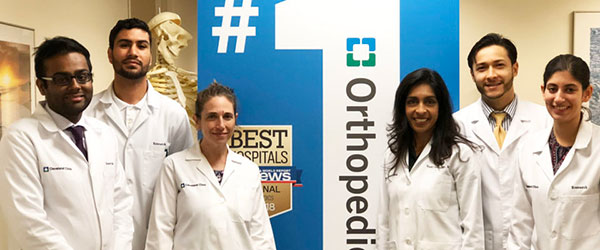 Research is a vital component of Cleveland Clinic Florida's medical academic mission, yet in today's lean healthcare economic climate, it can be challenging to secure funding.
For example, many government-funded research grants, such as those from the National Institute of Health (NIH), require physicians to first prove they've previously conducted successful research through published work in a reputable medical journal. However, publishing can be difficult in the early years of a physician's career because there usually is little time or support from a research team.
Committed to encouraging young physicians to pursue research, Cleveland Clinic Florida has created the Young Investigator Award (YIA), a philanthropic opportunity given to physicians in the first five years of their career who are interested in research. This one-year award covers 20 percent of a physician's schedule and that time can be used to work on research initiatives. Eligible candidates must submit proposals for review by a team led by a research program coordinator.
With a goal of helping young physicians become innovative researchers, the YIA will assist in publication of their research and hopefully lead to federal funding.
Two physicians are the inaugural recipients of Cleveland Clinic Florida's YIA. Ignacio Echenique, MD, of Cleveland Clinic Florida's Department of Infectious Disease, is conducting research on transplant patients to discover new ways to prevent the rejection of a transplanted organ. He currently is in his second year of research and has published four manuscripts.
Vani Sabesan, MD, is an orthopaedic surgeon with a primary interest in the management of complex shoulder and elbow problems in joint replacement, rotator cuff tears, elbow trauma, sports injuries and revision shoulder surgeries. Her research for the YIA focuses on ways to limit or eliminate opioid prescriptions for surgical patients.
The YIA is a philanthropic initiative of Cleveland Clinic Florida's Strategic Priorities Fund, which was established to provide support for areas of greatest need: equipment, medical education and research. For more information, please call 954.659.6720.