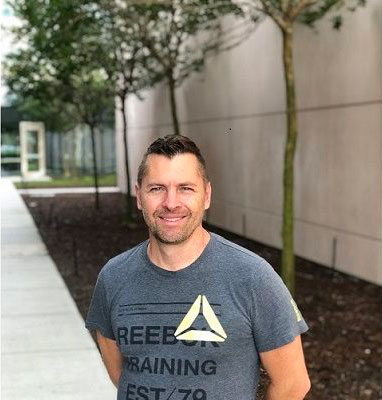 On October 11, 2016, 46-year-old Jason Stevenson finished work and began his daily sprint up eight flights of stairs in the parking garage to his car. But this day was different. As he reached the sixth floor, he says his right side suddenly "turned to jelly." He crawled out of the stairwell and slowly made his way to the elevator, pushed the emergency call button and dialed 911 before collapsing.
Jason was having a hemorrhagic stroke.
After nine days in the intensive care unit, Jason spent two weeks in inpatient rehabilitation. Since then, he's had two more brain surgeries and his recovery is ongoing.
As a CrossFit athlete, Jason was anxious to improve his motor skills after his stroke, so he began weekly physical therapy sessions at Cleveland Clinic Florida. Michelle Pearl, PT, a neurology physical therapist at Cleveland Clinic Florida, realized that despite his hard work, Jason wasn't progressing as quickly as he could be. She had a hunch that a special piece of equipment called LiteGait® could substantially help in his rehabilitation.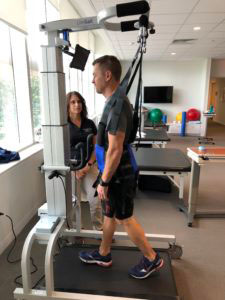 Jason Stevenson with physical therapist Michelle Pearl
LiteGait is a mobile gait training device that simultaneously controls weight bearing, posture and balance while walking on a treadmill or the ground. It creates an ideal environment for treating patients with a wide range of impairments and functional levels. LiteGait provides proper posture, reduces weight bearing, eliminates concerns for balance, and facilitates the training of coordinated lower extremity movement.
However, the device is expensive and wasn't in the annual budget. Knowing the impact it would have on Jason's treatment and other patients with mobility issues, Michelle approached the leadership at Cleveland Clinic Florida. After hearing her appeal, Cleveland Clinic Florida CEO and President Wael Barsoum, MD, immediately allocated funds from Cleveland Clinic Florida's Strategic Priority fund to purchase the LiteGait.
Cleveland Clinic Florida's Strategic Priorities Fund was established to provide support for areas of greatest need: equipment, medical education and research. Thanks to the generosity of patients and donors, the fund has been used to acquire leading-edge equipment such as a 3D imaging system used in the cardio-oncology program, a nuclear camera that detects underlying coronary artery disease, a Holter monitoring system that interfaces with electronic medical records – and now the LiteGait.
Within weeks of using the new equipment, Jason began to show marked improvement. The difference in adding this therapy? "Life-changing," Jason says. He continues to heal and hopes that his life soon will be back to normal with his wife and three children.
Today, as Michelle predicted, many Cleveland Clinic Florida patients are benefiting from LiteGait. "This device is helping so many patients each week, improving their confidence and overall health," Michelle says. "I am so grateful to the donors who made contributions to this fund."
Your support of Cleveland Clinic Florida's Strategic Priorities Fund has an immediate impact on the lives of patients and families. For more information, please call 954.659.6720 or email philanthropy@ccf.org.