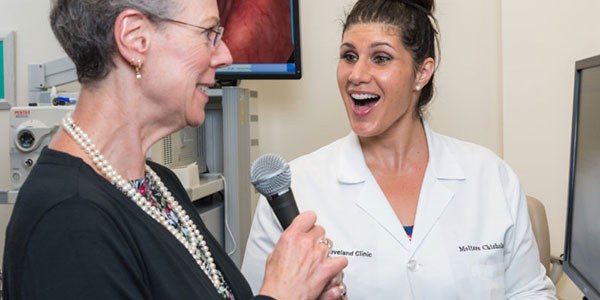 Nearly 90 percent of individuals with Parkinson's disease (PD) have speech or voice disorders that impair communication abilities. Today, advances in neuroscience have led to effective speech treatments to improve the quality of life for these patients.
Thanks to a recent gift to the Otolaryngology Research and Education Fund, Speech-Language Pathologist Melissa Grassia-Chisholm, MS, CCC-SLP was able to obtain training and certification as a Lee Silverman Voice Treatment (LSVT) clinician.
LSVT LOUD® is an effective speech treatment for individuals with Parkinson's disease and other neurological conditions. Published research data support improvements in vocal loudness, intonation and voice quality for individuals with PD who received LSVT LOUD, with improvements maintained up to two years after treatment. It is the first effective treatment for patients with PD and the only American Speech Hearing Association (ASHA) recognized research-based program for neurological conditions.
LSVT LOUD treatment fulfills a great need to better the lives of patients at Cleveland Clinic Florida.
"Because of philanthropy, I have been able to help our community find their best voice possible, and as a result, find their best life possible," Ms. Grassia-Chisholm says.
To learn more about services offered or to make an appointment, please call 954-659-5786 or visit the Speech-Language Pathology website.